A heartwrenching encounter led to a hiker to get caught in swift river water but with the help of Good Samaritans and an off-duty California Highway Patrol officer his life was saved.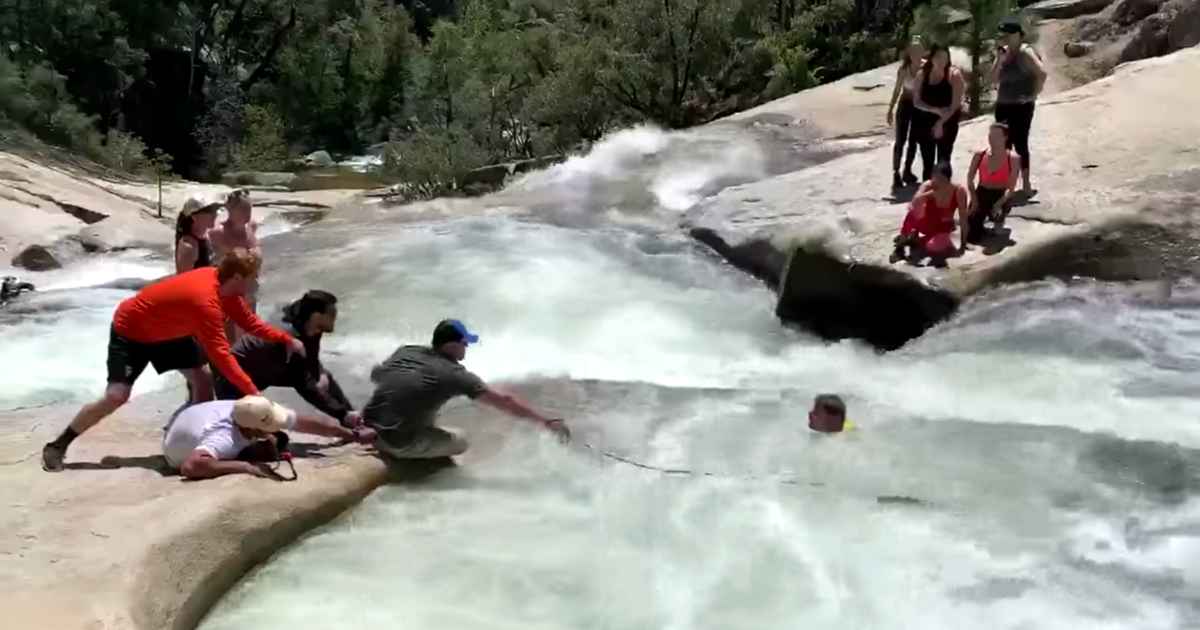 The Highway Patrol officer and his wife were trekking a secluded trail when they spotted him and teamed with other people to pull him to safety.
The river rescue was carried out on Saturday in the remote Angel Falls wilderness area near Yosemite National Park, the Madera County Sheriff's Office said.
A 24-year-old Fresno, California man was hiking in the area along Willow Creek just above Bass Lake around noon, when he tried to wade across the creek, "misjudging the swiftness of the water," the sheriff's office said.
The man, whose name was not released, was quickly knocked off his feet by a strong river current fueled by the snowmelt in the Sierra mountains, according to the sheriff's office.
While hiking at Angel Falls near Bass Lake in Madera County, with his family, off-duty CHP Officer Brent Donley (wearing the ball-cap) was alerted to a victim who was struggling to keep above water, stuck in the cold and fast moving water. Thinking quick, he utilized his Adidas backpack's para cord style strap, cut it out and tied it together with a small branch to allow the victim something to grab. With the assistance of other hikers, Officer Donley pulled the man to safety and assisted him for until help from the Madera County Sheriff's Office arrived. Officer Donley's quick thinking and training in search and rescue, undoubtedly helped to save the man's life. @californiahighwaypatrol @chp_centraldivision @abc30_actionnews @kmphfox26 @ksee24 @cbs47fresno @univisionfresno @thefresnobee @maderasheriff @adidas @adidas_hiking

Posted by CHP – Fresno on Saturday, May 9, 2020
"The flow overwhelmed and swept him into a whirlpool, which held him under," the statement from the sheriff's office reads.
The incident happened as Californians are looking to spend time at open spaces to practice social distancing and take a break from stay-at-home orders.
Brent Donley, an off-duty California Highway Patrol (CHP) officer, was hiking on the same trail with his wife, Christina Donley, and saw the man in distress. Donley is also trained in search and rescue and had ropes with him that came in handy for the life-saving rescue.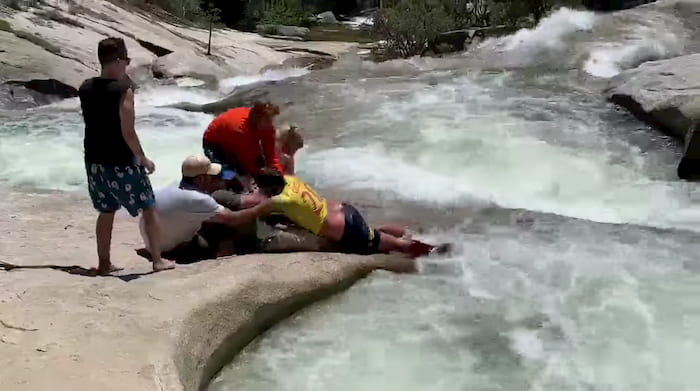 "The volume of water that moves every second is enormous," Donley told ABC News on Sunday. "People don't realize."
If it was not for the brave officer and his wife and the Good Samaritans who were willing to help out, we shudder to think what would have happened to the man.