A dying UK man's last wish of having a final kiss with his wife of 66 years was granted. David Mason just wanted a last kiss with his wife Sylvia, currently the two are in separate nursing homes but the nursing home staffs ensured the 90-year-old man's final wish was granted.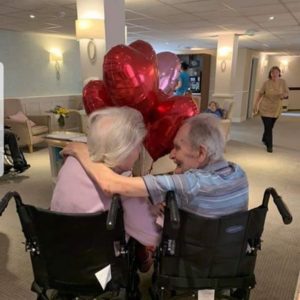 David and Sylvia Mason are married for 66 years but because of their illness, both are in separate nursing homes. David suffers from terminal cancer and knows he has very less time left, and Sylvia is in a special home people with dementia. It is heartbreaking to see this loving couple separated in their twilight years, and so the nurses found a way to make David's wish for "one last kiss" come true.
Staff at Charlotte House in the Wirral planned a special get-together for David and Sylvia and wanted David to have the chance to have the last kiss from his beloved wife. "I went and sat down with David and he was saying how much he misses his wife and that he'd love to spend time with her and have one last kiss with her," said the center's Activities Coordinator Natalie Fitch. "So we rang the family and the care home where she was staying and went to pick his wife up for the date."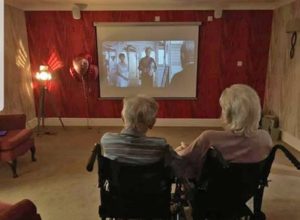 A video of their last reunion is going viral and shows the caregivers wheeling Sylvia into the reception area where David is and in the background "You Are My World" by Tom Jones plays. They are seeing each other for the first time in six months their joy on seeing each other is so beautiful.
This couple of 66 years is finally reunited and they hold hands and enjoy in each other's company. David then gives Sylvia a bundle of heart balloons. "He was so happy when she was wheeled through the door. He went 'surprise!' And went to give her a kiss," Natalie said. "They were telling each other how much they love and miss each other and he passed her the love heart balloons. We were all blubbering in reception."
The staff then took David and Sylvia to the facility's cinema room where they watched a Second World War movie and spent some lovely time with each other. "They kept talking to each other and kissing during the film," Natalie explained. "He's such a lovely man. He kept telling me how much he adores her and that she's been his wife for 66 years."
This is such a beautiful thing to make bright this couple's final days and is a part of the Charlotte House's end-of-life Wishing Well program. "We ask each resident if they could wish to do one thing what would it be, so they don't feel like there's nothing left to live for," Natalie explained.
The staff then go the extra mile to make their wishes come true. This is such an awesome way of bringing a smile on the faces of the elderly people who are in difficult situations in life, they truly are being the hands and feet of Jesus to these people.