Kim Johnson's father, Welsh, 69, was admitted to Sparrow Ionia Hospital for cancer treatment.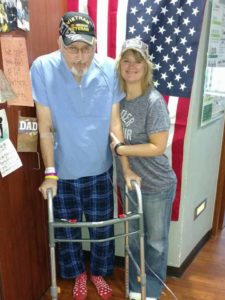 Harsh chemotherapy and radiation made eating and swallowing difficult. He was dying. "It's just so hard to see somebody you love suffer so much," Johnson said.
But his disappointment was the most on one particular day and that was the day before Veteran's Day. Welsh was a proud veteran of the U.S. Navy who served during the Vietnam War, he had donned a ball cap that read "Vietnam veteran" in his hospital bed.
When Johnson came to visit him that day at the hospital, Welsh sighed, took it off and laid it in his lap. "I wore my hat all day, and nobody ever said 'Thank you for your service,'" he told her.
Johnson tried to reassure him "I felt so bad," Johnson said. "All he wanted was for someone to say something." So she decided to do something about it and shared their exchange on Facebook.
Adam Dobbrastine visited Welsh's hospital room later that night, it was an important encounter for both men, Dobbrastine said he simply saw "a brother" in need.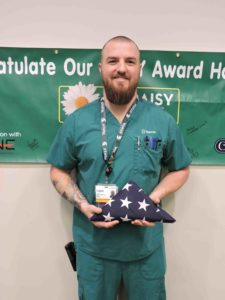 Dobbrastine, 36, is an emergency department nurse, he too had seen tragedy in his life, when he and his wife Amber, lost their daughter Elena to stillbirth.
Dobbrastine had overheard a co-worker discussing Johnson's Facebook post about her father and it didn't sit well with him, that a fellow veteran was feeling unappreciated.
"I just left the floor and went up to see him," Dobbrastine said. "That's what needed to be done."
Welsh then rang up Johnson from his hospital room later that night in tears. A nurse had come to see him, he told her. He was a veteran too. "He told me Adam said, 'I didn't want another day to go by without saying thank you for your service,'" Johnson said.
The two men spent time talking about their time in the military and about Welsh's love for fishing. "I asked him if he believed in God," Dobbrastine said. "I prayed with him. He cried and he thanked me. It was powerful."