The picture of an unknown man kneeling down and praying with his hands stretched out when a processional for a fallen Alabama police officer passed by, is catching the attention of people all over the country.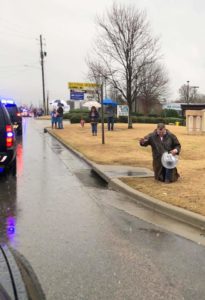 The man can be seen stretching out his hand, and praying as squad cars drive by him. The moment was captured on camera by Tim Evans, an officer with the Warrior Police Department. He was friends with Nick O'Rear, the Kimberly officer fatally shot during a pursuit Tuedsay night. O'Rear was only 33 years old.
"During the procession for Officer Nick O'Rear, so many people lined the streets in the pouring rain to pay tribute to this hero," wrote Evans. "But this one man really caught my attention. I don't know who this man is, but he knelt in the wet grass and prayed, his hand outstretched as each patrol car passed by." Evans described the action as "a very touching tribute."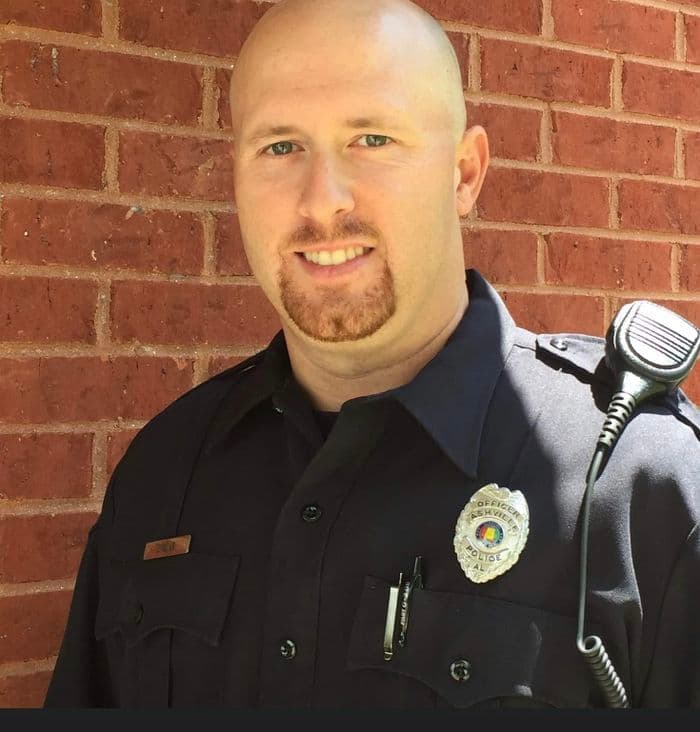 Kimberly Mayor Bob Ellerbrock described the slain officer as "a tremendous asset to our community" and a man whom "everybody loved." He said that O'Rear's murder was "senseless." Gov. Kay Ivey (R) said in a statement she was "profoundly grieved" to learn about O'Rear's death, adding, "His sacrifice will never be forgotten." O'Rear was the father of two children with a third on the way.
Four people were arrested in connection with O'Rear's death and one of them, 37-year-old Preston Johnson was charged. He now faces capital murder charges because the victim was a member of the law enforcement community. The handcuffs used to arrest Johnson belonged to Walker County Sheriff's Sgt. Kevin Emberg. The sergeant asked Sheriff Nick Smith to officially retire those handcuffs in a letter with a photo of the cuffs with the suspect's name and O'Rear's official date of death handwritten on them.
Joseph Brewer was the man who knelt down in the pouring rain and was friends with O'Rear. He is a man of deep faith, and was grieving the loss of his dear friend on Monday. Brewer knew what it was to lose dear ones according to a tribute penned by news anchor Rick Karle. It says that he has read the Bible from Genesis to Revelation at least five times and that he's had a near death experience many times too. He credits his faith in God for carrying him through.
As a teen, Brewer was hit head-on by a drunk driver and suffered serious back injuries as a result of the accident. Karle wrote, Brewer's "faith pulled him through." Years later, he found himself in the crossfire as a group of teens shot bullets into his car, one hitting the back of his head. He survived, and, according to Karle, "his faith pulled him through." Then, as an adult, while repairing a gas line, he was run over by a utility truck. Once again, Karle wrote, Brewer's "faith pulled him through."
When Brewer heard of O'Rear's death, he traveled a long distance to be there for his funeral. "Joseph was overcome with emotion as the hearse passed, and as he knelt in the soggy grass and removed his hat, Joseph Brewer prayed, and then prayed some more," wrote Karle. "He bowed his head and prayed for what seemed like an eternity as rain pelted his face and the long, sad procession moved along. With mud on his knees and wind whipping through his bones, he prayed for every officer as they sadly drove by."
Family members of slain Kimberly police officer are here for press conference that is about to begin pic.twitter.com/RsOuVc42OO

— carol robinson (@RobinsonCarol) February 5, 2020
Karle's Facebook post about Brewer has been shared more than 9,000 times. Let us continue praying for O'Rear's family, Brewer and Evans as they process the untimely and sad demise of the brave officer.