A Pennsylvania community is uniting in prayer for 17-year-old Mason Martin, the high school quarterback who collapsed during a football game last Friday. His family is seeking nothing short of a miracle as Mason remains in critical condition with severe brain and lung injuries.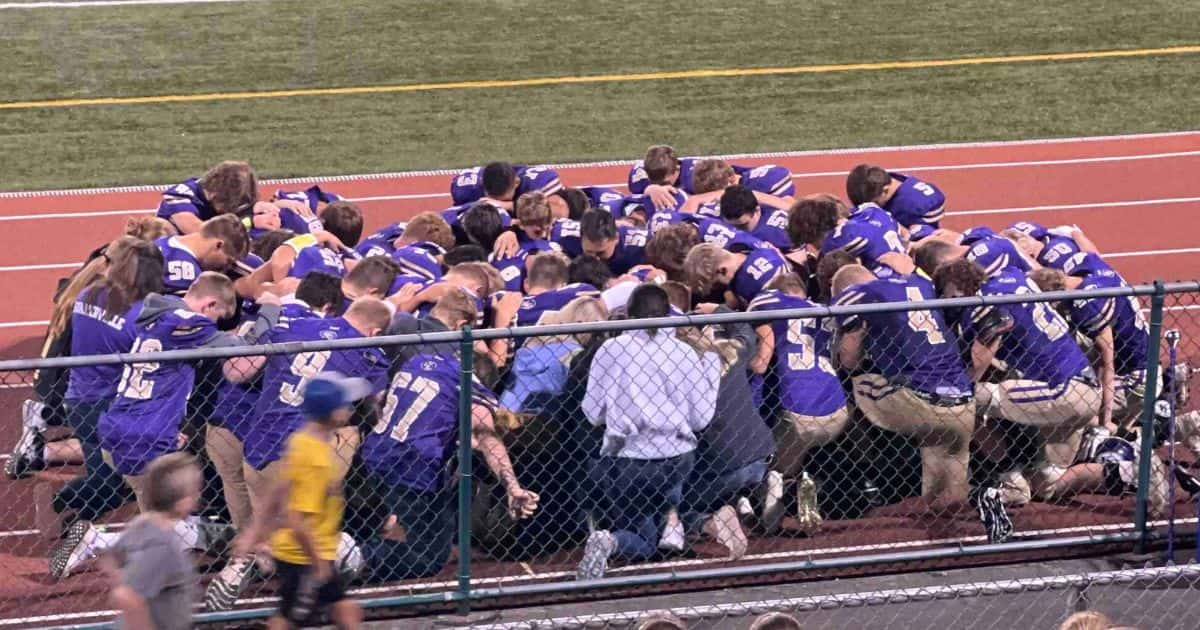 Mason was collapsed during the third quarter of the game between Karns City and Redbank Valley in Butler County, Pennsylvania. According to WTAE-TV and WPXI-TV, Mason was involved in a tackle and continued to play before eventually staggering and collapsing on the field. He was immediately airlifted to UPMC Presbyterian Hospital in Pittsburgh for emergency care.
On Sunday, his parents took to social media to provide an update on Mason's condition and to call for community prayers. "Mason remains in critical condition with little change over the last 36 hours," they wrote. "The truth is we need a miracle."
The Karns City community has shown an outpouring of love and prayer for the Martin family. Hundreds gathered on Sunday at the Karns City football stadium for a prayer vigil. Pastor Pete Sapp, who led the gathering, addressed the crowd: "We gather together with shared hope. We gather together to lift our combined voices to God on Mason's behalf. We gather here today to pray for a miracle … we come here tonight to beg for a miracle."
#LATEST: @KC_GremlinFball QB & @KCGremlin senior Mason Martin is fighting for his life at @UPMC Presbyterian after he collapsed at last night's game

Family tells me he suffered a significant brain bleed & a collapsed lung – the next 24 hrs are critical

: Holly Mead@KDKA pic.twitter.com/hTiCZEbWLj

— Lauren Linder (@lauren_linder) September 2, 2023
During this distressing period, the Martin family is also grappling with other challenges, including Mason's mother Stacey's ongoing battle with stage four breast cancer. Family friend Shennell Crissman told KDKA-TV, "My heart sunk because this family has been through more than any family, and it's just heartbreaking."
District Superintendent Eric Ritzert also urged the community to continue praying for Mason's recovery, emphasizing the unifying power of faith during trying times. "We ask that everyone continues to offer their prayers for his recovery," Ritzert said.
As the Martins face this overwhelming challenge, their faith remains strong. In their social media post, the family alluded to the biblical passage Jeremiah 29:11, which reflects their hope for Mason's future: "For I know the plans I have for you, declares the Lord, plans for welfare and not for evil, to give you a future and a hope."
Update from the family #MasonStrong pic.twitter.com/SOjmhmYJdx

— Karns City Football (@KC_GremlinFball) September 3, 2023
Across the nation, people are lifting up the Martin family in prayer, with the hashtag #MasonStrong circulating on social media.
As you read this story, we ask you to please take a minute to pray for Mason and his family. They really need a miracle right now, and every prayer counts.
"Do not be anxious about anything, but in every situation, by prayer and petition, with thanksgiving, present your requests to God." Philippians 4:6
WATCH: Family and friends gather to pray for Mason Martin