A high school student tweeted the adorable reaction he got from one of his teachers after he had been accepted into the Georgia Institute of Technology this weekend.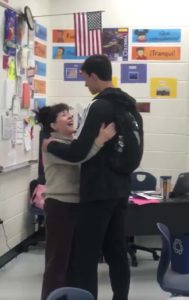 The excited teacher's reaction was captured in a clip by the South Forsyth High School senior which he shared with the entire world.
17-year-old, Max Pacheco, visited the school after Martin Luther King Jr. Day, to share the news with Dr. Gloria Green, a Spanish instructor in the world languages department.
Dr Green is close to the boy and he considers her as one of the best teachers he has had. She is also the teacher who wrote his recommendation.
Pacheco who plans to major in mechanical engineering, walked into the school and was carrying flowers in the colors white and gold, which are the official school colors of Georgia Tech.
As he walked into the room and met Dr Green and broke the news to her, she couldn't hold back her excitement. "You got in Tech!" she said before giving him a big hug.
Watch: Student Surprises Teacher With College Acceptance Letter
So this past Saturday I was blessed to have been admitted into @GeorgiaTech . Today in school I surprised Dr. Green, one of the best teachers I've had and the teacher who wrote my recommendation, with the news. This was her reaction 😊 pic.twitter.com/MuFYkG1SB9

— Max Pacheco (@cmaxpacheco) January 21, 2020
Max Pacheco has been wanting to attend Georgia Tech since the seventh grade, and he said that his sophomore year AP Spanish teacher "was one of the nicest and sweetest teachers he has ever had. "As for why Dr. Green means a lot to me: she was just one of the greatest teachers I've ever had," he said.
"There are a lot of teachers out there, but Dr. Green was just able to make teaching fun and really connect with not only me but all of her students. She's a teacher that not only wants to see you succeed in the classroom, but also wants to see you succeed beyond in life."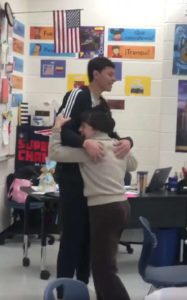 Pacheco was one of the 4,500 high school seniors who were granted early action admission Saturday. Of the 22,000 students who applied, 21% were admitted, out of a total of over 41,000 students who had applied for in the fall, 11% more than 2019-2020 school year.
Pacheco's acceptance reaction on his Instagram page, has got him many congratulatory messages after he shared Green's reaction and was also highlighted by Georgia Tech's official Twitter account.