An eleven-year-old girl is winning hearts for her act of kindness of granting wishes to nursing home patients.
Ruby Kate Chitsey got inspired to do what she is doing, after she had spent last summer helping her mom Amanda, with her business in assisting elderly residents. Amanda helps many patients at 5 different nursing facilities across Harrison, Arkansas. So when Ruby visited one of the nursing homes over the weekend, she couldn't help notice one of the residents gazing forlornly out the window.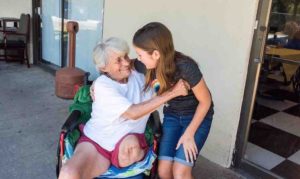 She was confused, since the only thing outside of the window was someone walking a dog out to a car. Ruby says, "I asked Pearl, 'What's so important?' She told me that it was her dog of 12 years, and she didn't know the next time she would see it," said Ruby Kate. "Pearl's face was so sad. I thought that of all the things in this world Pearl could have, she would probably just ask for more visits with her dog."
Pearl could not take care of her dog as she could not afford to care of herself, as half of US nursing homes are funded by the government, patients are only given about $40 to spend on "extra" comforts outside of room and board, which means they have only $40 to spend on simple luxuries, such as haircuts, new pants – or dog food.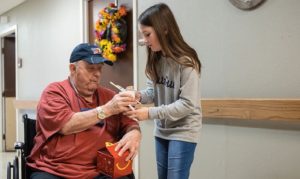 Ruby says. "I'm 11, and even I have enough money saved in my piggy bank to help Pearl get a few more visits with her dog." So that's how she resolved to help grant other not-so-fortunate people's wishes. She started knocking on the door of each resident's room with a notebook in hand, and asked them, "If you could have three wishes, what would they be?"
The residents wishes were very simple, like some wanted a pair of fitted pants; others for fast food; a lady even said she wanted to go to a water park to watch families having fun. Ruby's mom said, "It was a great experience for everyone, you expect people to tell you they want a million dollars or a new car, but they don't. They want snacks or a pair of pants that fits."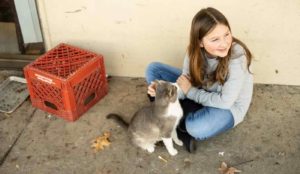 Ruby has launched her Three Wishes project to raise money for the patients' wishes and her mom launched a GoFundMe and Amazon wishlist for the project, which has since raised over $26,000. They were able to use the funds to buy clothes, corrective hearing devices, food, shoes, and the most commonly requested item amongst the residents: pet food.
Her mom says, "The response so far has been amazing,"and adds, "There are a lot of fundraisers for everything, but not so much for the elderly. It's been refreshing to see attention shine on this group."