An accidental text by a grandma to a stranger who she thought to be her grandson, inviting him to a thanksgiving celebration, has led to a unlikely friendship between the two. They have been celebrating Thanksgiving since.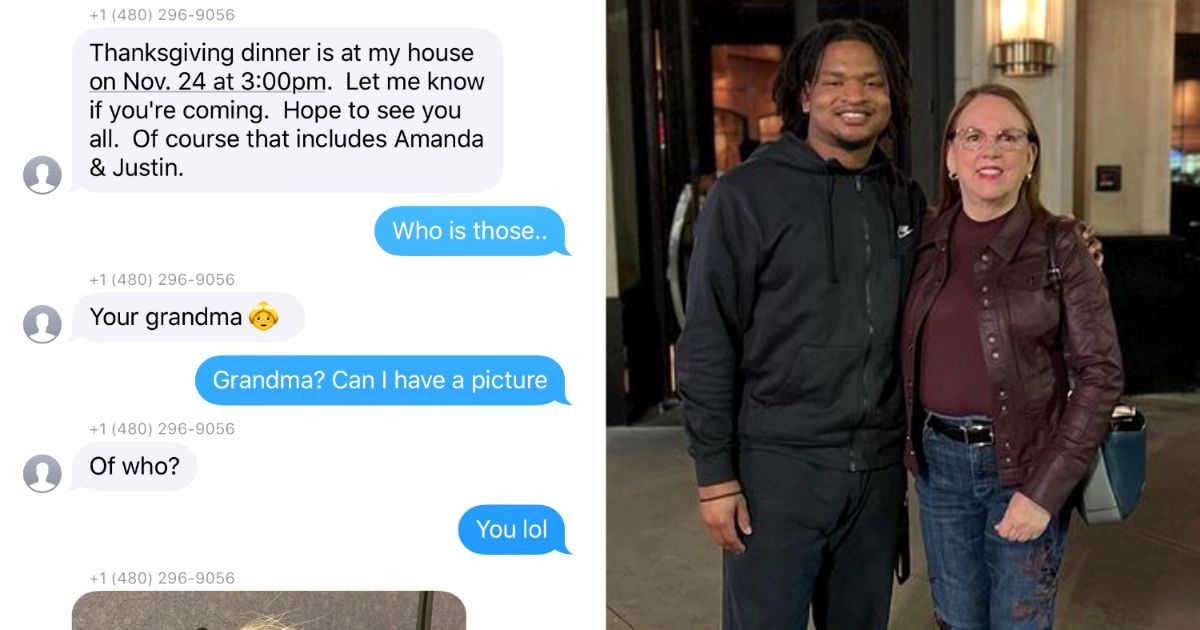 It all began in 2016, when Wanda Dench from Mesa, Arizona sent a text to a number, she thought belonged to her grandson, not knowing her grandson had changed numbers. The text was, instead, received by one Jamal Hinton, living in Phoenix, Arizona.
Jamal had received a text with details, on Nov, 2016, inviting him to a Thanksgiving dinner from a lady who said, was his grandma. He asked for a picture of the person on the other end to confirm whether it was his grandma or not. When he received it, it turned out to be a complete stranger. A woman with blonde hair and glasses and not his grandma.
He replied, "You not my grandma" with laughing emoji and followed up with another text, "Can I still get a plate tho?". Wanda replied, "Of course you can. That's what grandma's do… feed everyone" with a cake emoji.
The young man who was then a 17- years-old high school senior tweeted the screenshot of their entire conversation with the caption "Somebody grandma is coming in clutch this year!! Ayee!!!". The tweet went viral all over the internet and has even picked up Netflix's interest in making a movie about them, which is to be titled aptly as 'The Thanksgiving Text'.
Thanksgiving 2016
Somebody grandma is coming in clutch this year!! Ayee!!! pic.twitter.com/QGrx83nHLl

— Jamal Hinton (@Jamalhinton12) November 15, 2016
"We are excited to share our story with the world. We hope it inspires more people to reach out and make connections that they wouldn't ordinarily make," Hinton and Dench said in a statement shared by Netflix. "We are so blessed to find a genuine friendship brought together by God from a mistaken text message. "
Since they tweet in 2016, Wanda and her husband Lonnie had been celebrating their Thanksgiving dinner with Jamal annually and they grew closer year after year. Even after Lonnie passed away in 2020 from Covid-19, they made their plans and celebrated together, in honor of Lonnie, even as the world was in a pandemic.
"Family is more than blood," Wanda had said in a 2018 Thanksgiving video. "It's the people you want to be with and you just feel good with."
Wanda had actually decided not to celebrate Thanksgiving that year (2016) and had planned on going for a mini vacation. However, that year's Thanksgiving became the most 'memorable' and 'life-changing' Thanksgiving.
Thanksgiving 2017, 2018
2016, 2017…… 2018 ❤️ pic.twitter.com/0ZNA54uGAS

— Jamal Hinton (@Jamalhinton12) November 23, 2018
Thanksgiving 2019
As promised! Here's our 2019 update 🦃 @mikaela_autumn pic.twitter.com/hHGZUXYzr3

— Jamal Hinton (@Jamalhinton12) November 29, 2019
Thanksgiving 2020
 

 

View this post on Instagram

 
Thanksgiving 2021
 

 

View this post on Instagram

 
The young man, now 23, has been documenting about their annual tradition, tweeting pictures of their reunion at every Thanksgiving. Recently he has shared that they would be keeping up with their annual Thanksgiving tradition for the 7th consecutive year.
"To answer all your questions, yes Thanksgiving year 7 is planned out! See you guys Thursday!" Jamal wrote on the caption as he posted a photo with Wanda on Instagram.
Thanksgiving 2022
 

 

View this post on Instagram

 
Hinton says that his relationship with the Denches helped him to go on through the years. It was amazing to him how they came together in the manner they did and seeing positive responses from the people year after year on their story inspires and motivates him.
"It actually helps me get through the year sometimes to see so many uplifting comments, to see so many people looking forward to our story that I just love it all," Hinton said.