A kind-hearted officer stand in the middle of the rain drenched road to protect a turtle that quiet unwisely chosen to rest in the middle of the road. Standing in pouring rain, the cop covered the snapping turtle until it was safely moved off the road. (Scroll down to watch the video.)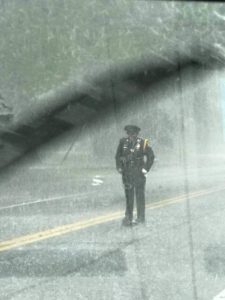 That day the officer, Sharnise Hawkins-Graham was on her way to home when she noticed a turtle resting on the road. Even though she tried calling the animal control for assistance, she couldn't get through them. So she was up to substitute the rescue mission and the collective effort from a caring cop. This lady police officer was named as the "Greenbelt Police Officer Of The Year" in 2017 for caring the smallest resident in her city!
The heartwarming incident got highlighted, when a couple spotted this brave lady officer standing firmly in the middle of rain drenched road. Carolyn B.R Hammet and her husband were driving near their home in Greenbelt, Maryland on a very stormy afternoon when they witnessed this unusual scene!  Seeing the cop in the middle of the road in soaking wet with a big smile on her face, the couple stopped their vehicle near the cop. And when they realized that the cop is actually trying to save a life, they too were moved in compassion to get into the rescue mission. Rather than making the officer to wait for long, the couple rushed to their home and brought two shovels to move the turtle safely off the road!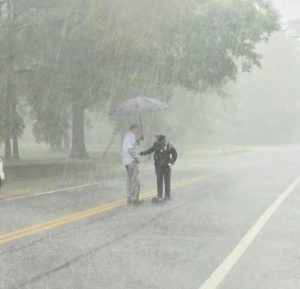 Last October, Hawkins-Graham got the honor as 'Greenbelt Police Officer Of The Year' and she is proudly upholding it "everywhere"! We too are proud to extend the salutes of appreciation to her act of kindness!