There are moments when the hand of God reaches out in unexpected ways, offering grace even amidst the chaos. Such a miraculous intervention unfolded on a bustling highway in North Little Rock, Arkansas. A benevolent stranger, much like a guardian angel, made an appearance to console and comfort a young driver caught in a disastrous collision with an 18-wheeler.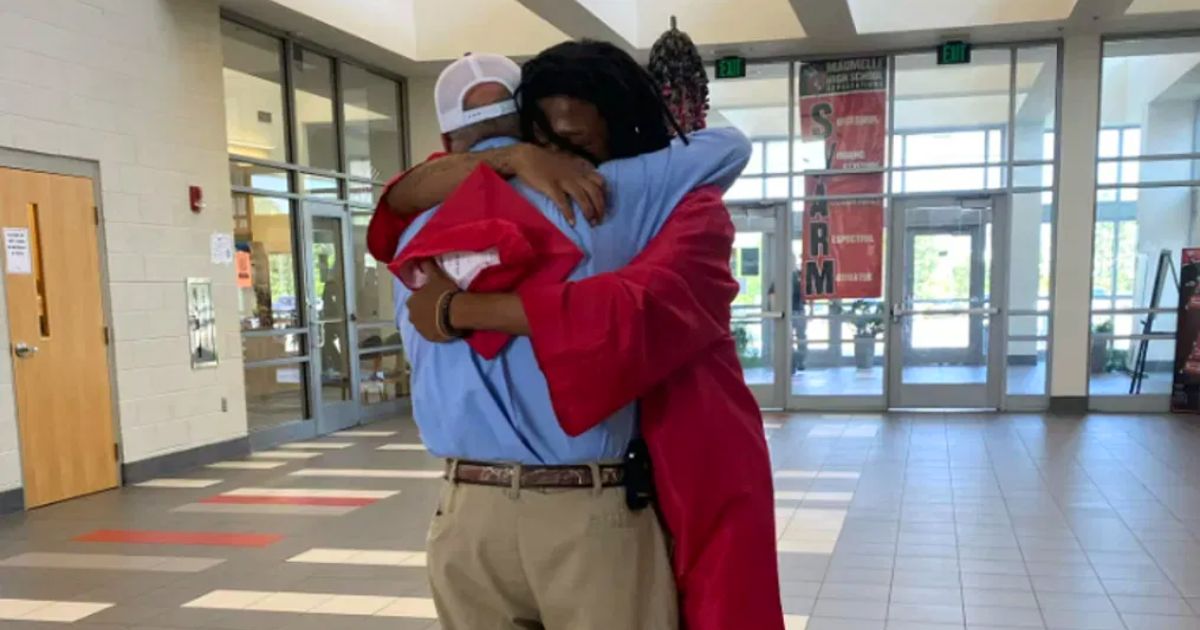 Harvey Shelton, who was on the cusp of a significant milestone – his high school graduation, found himself in an unfortunate accident.
Reliving the moment, Harvey recalled, "I was driving behind a white Jeep when it suddenly swerved out of the lane. I noticed a semi-truck with caution lights on and attempted to avoid it but failed to do so in time." In the aftermath of the collision, Harvey's car was wedged beneath the semi-truck, its front and parts of the driver's side gruesomely crushed.
Yet, within this scene of wreckage, Harvey found a flicker of divine hope. A stranger, whom he would later name his guardian angel, appeared at his side, keeping him calm and reassuring him as they awaited professional help. This stranger was Darrell, the unexpected hero of this dramatic episode.
Harvey's step-mom, Mauzie Shelton, painted a vivid picture of the scene. "Harvey was scared, unable to breathe. He held out his hands from the window, pleading for help."
"And out of nowhere a voice said 'I got you, and will wait with you till help arrives' and he held his hand, keeping him calm."
Despite being a stranger, he comforted Harvey until help arrived, offering prayers and reassurances.
"He just kept saying 'I am here. I am praying for you. They will be here soon" Mauzie said.
Miraculously, Harvey only suffered a significant gash in his leg, requiring 40 stitches, but no broken bones. His physical resilience is astonishing, but the emotional support offered by Darrell was undeniably a critical factor in this outcome.
In the following hours, Mauzie launched a quest to locate this guardian angel. Through a heartfelt Facebook post, she reached out to Darrell, expressing the family's gratitude.
The Shelton family was able to locate Darrell, thanks to the power of social media. In a poignant conclusion to this saga, he was present at Harvey's graduation ceremony.
In an empathetic gesture, Maumelle High School recreated the graduation ceremony, allowing Harvey to celebrate his accomplishment with his friend who had stood by him during his hospital stay. As he walked across the stage, Harvey embodied the true spirit of resilience, faith, and the power of human connection.
This miraculous survival story serves as a reminder of the divine interventions that often show up in the form of kind strangers. Harvey and his family found a hero in Darrell, whose timely intervention and comfort undoubtedly saved the day.
Harvey plans to join the military post-graduation, carrying forth the spirit of service and compassion exemplified by Darrell.
"For he will command his angels concerning you to guard you in all your ways." – Psalm 91:11
WATCH: Good Samaritan Comforts Teen After Accident