Saving cats stuck on trees is a common thing, but saving a freezing kitten in sub-zero temperature is another story. This kind hiker saved this clingy kitten from death and gave it literally, a home.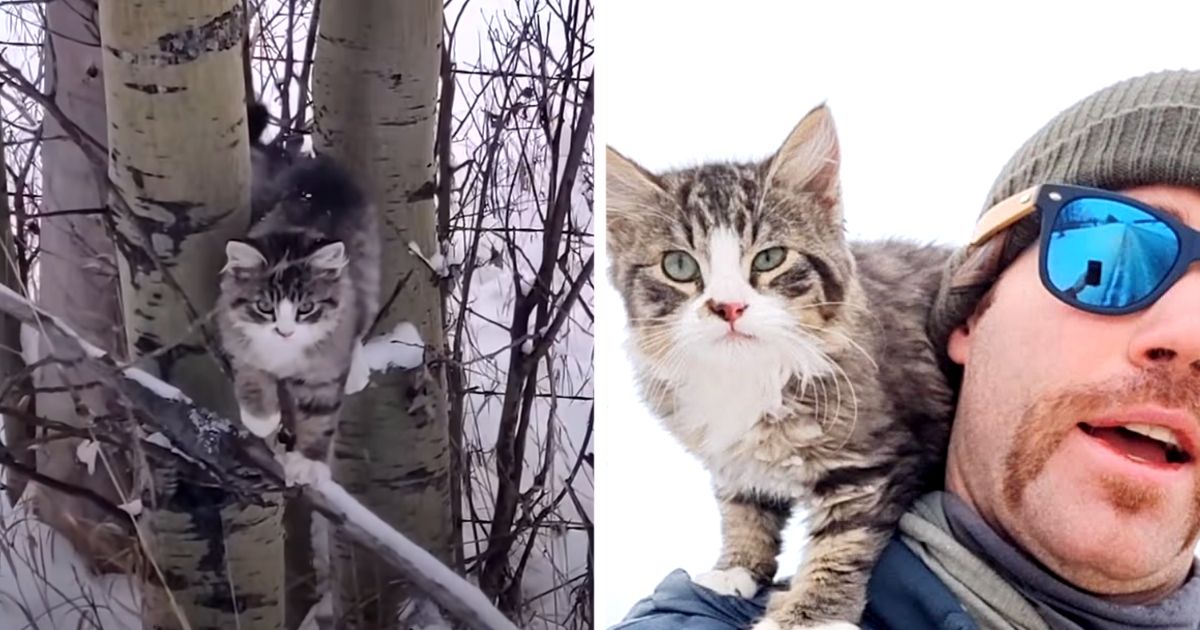 Max Adams, 31, was on a hike in High Prairie, Alberta, Canada. Suddenly, when he saw a stranded kitten meowing loudly begging for help. The temperature was -20 degrees that day. He was a fluffy, gray and white bobtail kitten with adorable big eyes. Adams found him when he was on the 10th kilometer of his 60-kilometer hike. The lost kitten never left his side ever since.
This cat had found a new buddy! The hiker and kitten were inseparable. The adorable feline followed him everywhere. There were times when he was on his shoulders. There were moments when he opted to walk but he still followed his hero anyway. This baby snuggled close to his foster fur parent. They developed a bond during the brief time they were together. However, Adams' goal was to still find his owners. He even refused to give him a name because he knew that this clingy kitten belonged to someone else.
"He just kind of captured my heart," the kitten's rescuer said. This baby was a pleasant surprise for him. He had his share of challenges for the last 15 months. Adams' best friend was diagnosed with Colon Cancer and his granddad passed on last February due to the big C as well. The reason why he was on this hike was that he and his friends were raising funds for a worthy cause. They were on a 60-kilometer hike to raise money for "Movember". They aim to provide financial aid for suicide prevention, mental health, and Cancer.
He suspected that he could be owned by one of the families who lived nearby. True enough, this baby belonged to a family that has a daughter and a son. The little girl was heartbroken when they lost him. Her parents bought a new kitten for her instead. There was a massive snowstorm when their pet got out. They looked for him everywhere but to no avail. They also thought that he was tackled by coyotes when he went missing for several days.
The biggest surprise happened when Max was allowed to take him home. Since he now has a new fur parent, a new name had to be given to him. He initiated a poll for his cat's new name. "Hytch" was a top bet on the poll. The previous owner is still in touch. The kids even sent a card for their feline friend. Certainly, this clingy fellow made a mark in their lives.
One can never underestimate what kindness can do to a person, or in this case, to a cat. Max Adams might be a hero for Hytch, but this fur baby also made a dent in his life. This clingy fellow came at a time when he needed him the most. Each found a hero in one another at the lowest times in their lives.
"Dear children, let us not love with words or speech but with actions and in truth." 1 John 3:18