There are many homeless people in this world, who sleep on the roads and lanes as they have no house of their own, but one former homeless man defied all odds to become London's best bus driver, because of his great attitude in life.
Pat Lawson has a never-say-die attitude to life and keeps smiling even though he faces the worst of gridlocked traffic on a daily basis on the streets of London and probably that's the reason he was named as 'The most Bubbly Bus driver in London'.
The 50-year-old man admits he never stops smiling, and the reason behind that was his dark periods of homelessness, and prison. He says he was in the "wrong crowd" as a teenager he was into the "dark and vicious cycle" of homelessness, crime and drugs. He started questioning his life choices and that's when he decided to get help and turn his life around.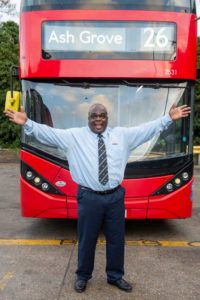 Thanks to The Single Homeless Project which helped Pat train as a bus driver and he immediately took a liking to the job. He says, "I sold the Big Issue in Russell Square and Mayfair and even then I was always enthusiastic so I brought that to the bus industry."
Lawson says that he says good morning to every passenger on the bus and gives them a big smile, some said it would not last, but his passengers told him to keep on going.
After starting his work in March 2017, he received two awards and more than 100 recommendations from his passengers.