There are people who are starving to death today in various parts of the world, while others eat apple pies and hamburgers daily. We don't realize how blessed we are to be in America.
Matthew 25:35 "For I was hungry and you gave me food, I was thirsty and you gave me drink, I was a stranger and you welcomed me."
As Christians, we are told to feed the poor and help people who are in need, feeding the needy is serving one another, and as we serve other people we are indeed serving Christ.
ForeignGerms has shared a prank video with a message about feeding the hungry and being kind to those who are in need.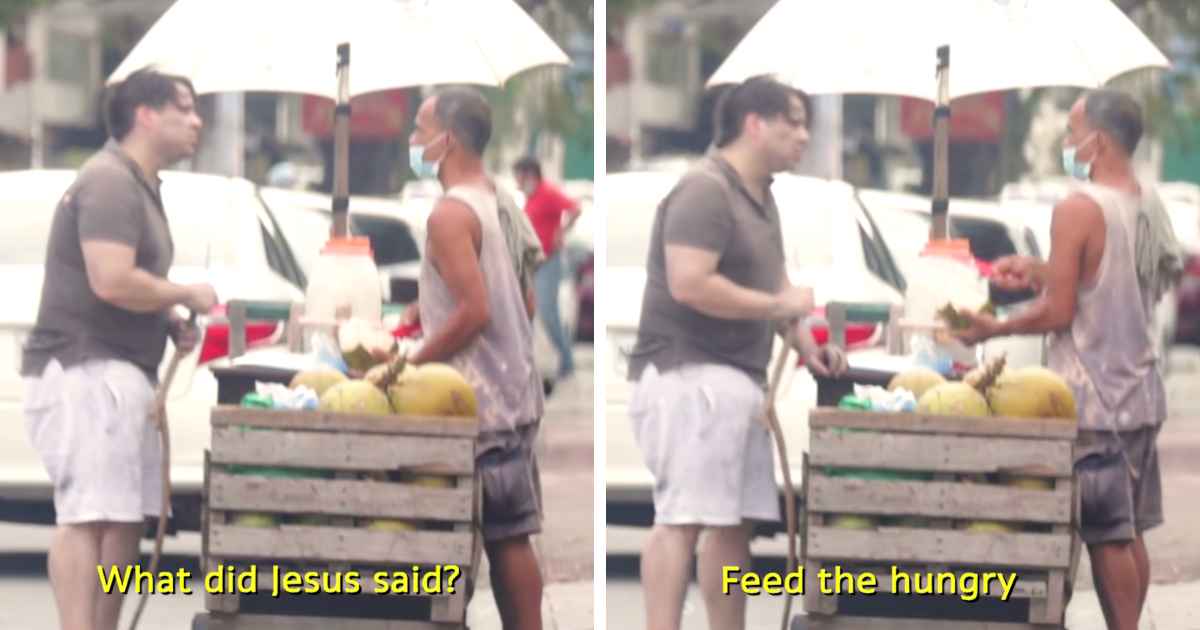 Today he is paying it back to those who work very hard in the Philippines like the Kabayan street vendors, who have to sell coconuts to take care of their family needs.
He says on his video that he wants to pay it forward and bring back Bayanihan. "I want to show people that there is still kindness in the world and that people are good inside. I want to also motivate those of you watching to do a random act of kindness and be a good Samaritan."
The Good Samaritan can be seen posing as a foreigner stuck in the Philippines due to the lockdown and with no money or food. He can be seen asking the kabayan Bebot who is selling coconuts to make a living for a free coconut.
The kabayan melts hearts by agreeing to give the 'starving' man a free coconut and some food.
1 John 3:17-18 ESV "But if anyone has the world's goods and sees his brother in need, yet closes his heart against him, how does God's love abide in him? Little children, let us not love in word or talk but in deed and in truth."
When the man asks him why he is giving him a free coconut, the kabayan or coconut seller introduces himself as brother Bebut and tells the man that Jesus said to feed the hungry in the Bible.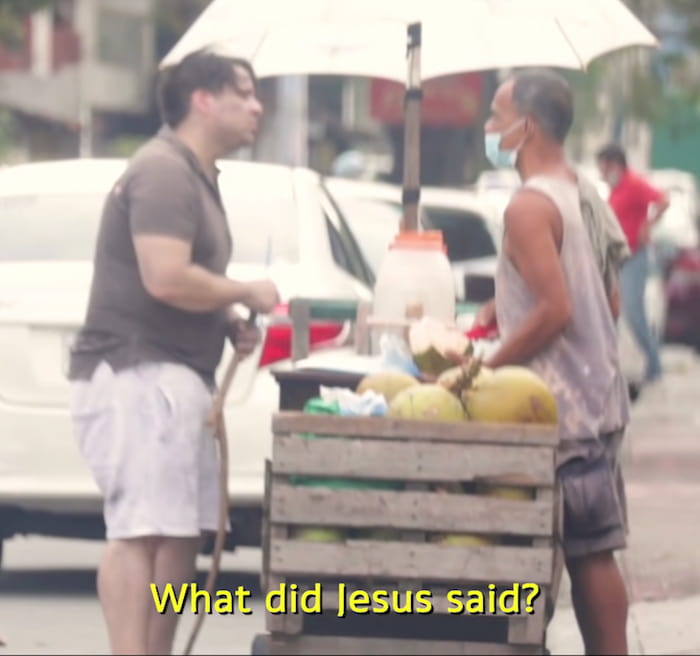 The man then eats the food and drinks the coconut water and before he completes his meal, a car blocks him and the coconut seller and he moves off to another spot to sell his coconuts.
The Bible tells us to share our food with the hungry and not be stingy with the poor. Isaiah 58:7 "Share your food with the hungry, and give shelter to the homeless. Give clothes to those who need them, and do not hide from relatives who need your help."
He follows the coconut seller and then finds him at a corner and approached him and tells him how touched he was by his act of kindness and now he was going to give him something.
He then takes out money from his pocket and gives the coconut seller and surprises him. He asks him how many children he has and the man says he has only one child. The Good Samaritan then tells him that he gave him the money because he wanted to repay him for the kindness shown to him.
Isaiah 58:10 ESV "If you pour yourself out for the hungry and satisfy the desire of the afflicted, then shall your light rise in the darkness and your gloom be as the noonday."
What a beautiful and heartwarming video this is and we are touched by the Christian coconut seller who showed the hungry Muslim man from Syria the love of Jesus Christ and through his actions gave him the very essence of the gospel.