An encounter like this has never been seen before. A homeless man stood in front of a stolen fire truck which ended the police pursuit for a suspect in Anaheim, California.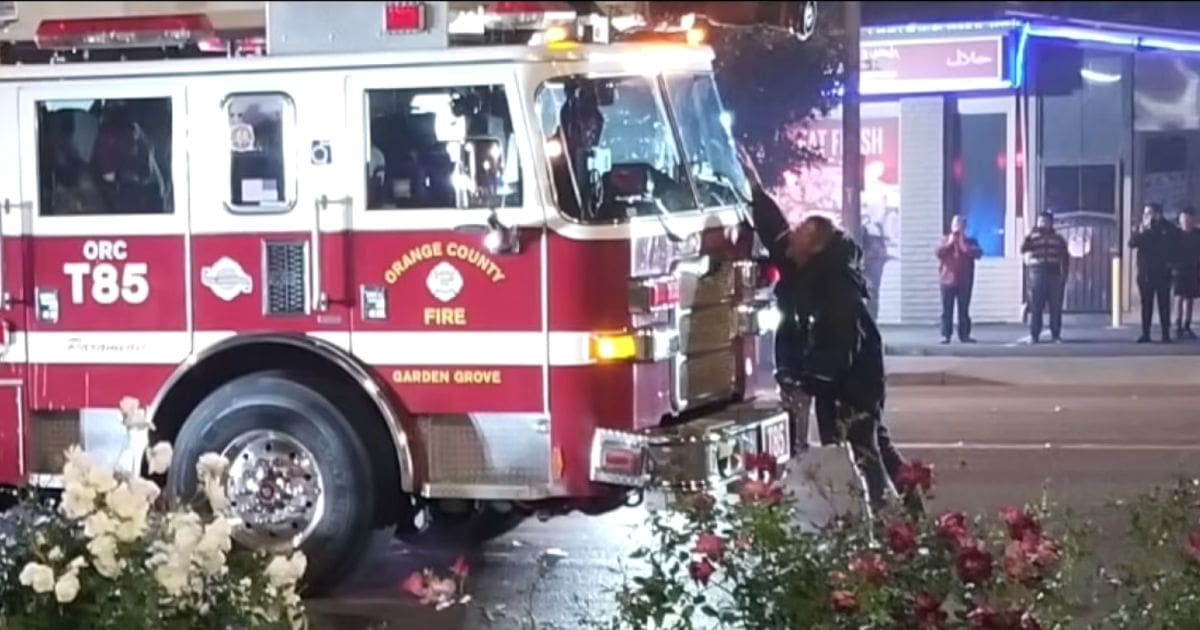 The suspect took the Orange County fire truck 85 around 1:40 AM at the UC-Irvine Medical Center. "As they [firefighters] were dropping off a patient at the hospital, the truck was stolen," Captain Greg Barta of the Orange County Fire Department said.
"Our two firefighter-paramedics were transferring care to the doctors and nurses there. Our captain engineer was busy loading the gear back onto the rig, and at that point, someone took truck 85 and stole it and started driving away from the hospital," an officer described.
He passed through several Orange County communities, including Fountain Valley and Irvine. The man was eventually forced to stop in Anaheim near Ball Road and Brookhurst Street around 3 AM because Richard Lynn intervened.
Richard Lynn, the homeless man, stood in front of the fire truck and talked to the suspect through the windshield. The suspect tried to maneuver around Richard, but he stood his ground.
Mitch Fecler witnessed the ordeal and took a snapshot of the unforgettable encounter. He recalled, "It's just crazy how the homeless guy walked up and in front of the fire truck and started talking to him through the windshield, and I got a really good picture on my phone and everything." Mitch added, "They just kept telling him, please get out of the truck. We don't want to hurt you, and finally, the guy opened the door and surrendered peacefully."
This brave man intervened because he did not want to see the suspect get hurt. The witnesses said that the discussion lasted around 20 minutes. Thankfully, no one got hurt during the chase and negotiation.
The fire truck sustained minor damage only and was returned to its station in Garden Grove. The suspect did not exceed speeds over 40 miles per hour, and Anaheim Police arrested him, Fox News reported. 
It was compassion for the suspect which led the homeless man to risk his life to stop him. Pretty much like all of us, Jesus loves us unconditionally and saved us. He continues to love us even during times when we do not deserve it. 
"But God demonstrates his own love for us in this: While we were still sinners, Christ died for us." Romans 5:8