In continuation of our recent story on the mystery lady with an opera singer voice singing in a Los Angeles subway, we have some good news to share.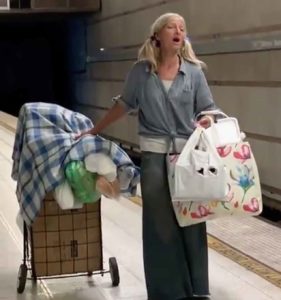 The homeless Russian-American woman who was captured on camera by an admiring police officer has been identified, and her life has gone through a radical change.
When people at the LA police department asked Emily Zamourka what they could do for her, she said she wanted to thank Officer Frazier for sharing the video, so they set up a meeting: "I can't believe this is happening," she said as she broke into tears and embraced the brawny Frazier who wrapped her in a bear hug.
Her life has undergone a massive change since her voice was heard echoing on a subway platform. The clip opened a flood of online donations and paid singing gigs.
We saw with our brains, but we listened with our hearts.

Her voice continues to captivate our city, and as the offers for help pour in, we asked: "Emily, what can we do for you?" Her answer: "I want to thank Officer Frazier for taking the video."

Her wish was granted tonight. pic.twitter.com/lH4V51YTZ4

— LAPD HQ (@LAPDHQ) October 3, 2019
Recently she performed the same operatic song in front of thousands at the grand opening of Historic Little Italy in the San Pedro, Los Angeles.
Los Angeles councilman Joe Buscaino, invited Zamourka to perform. After his speech, he introduced her to the crowd before she sang the Italian aria by Puccinni. She said, "I'm so glad that I could touch your hearts with my voice. Thank you so much. I'm so overwhelmed."
The councilman and his staff have helped her to get shelter and paid her $700 for the 3-minute performance.
Emily, 52, was struggling to make ends meet and then tragedy struck when her $10,000 violin, which she played on sidewalks to make extra money, was destroyed by a passerby, and then she became homeless.
A GoFundMe campaign has been started for her which has raised more than $68,000 so that she could replace her violin. She said she was offered many violins since her story went viral. She "very much appreciates" all the generosity, but is waiting for a chance to get one that resembles the one she lost. "My violin was a very special violin," she said. "I'm looking for an instrument that I can fall in love with."
Zamourka was offered a recording contract from music producer Joel Diamond, she is keeping her options open. She just wants to get back to working as an artist to sustain herself. We wish her all the best in life and may all her dreams come true.