A heartwarming story of a huge number of people forming a human chain to save two swimmers is melting hearts of people on the internet.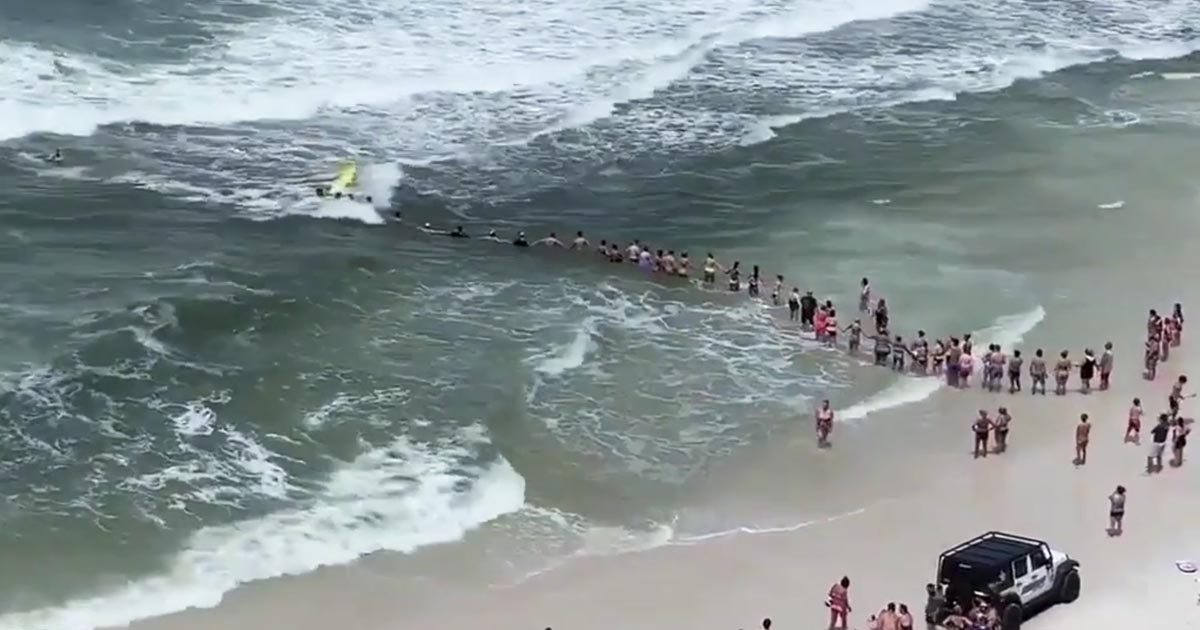 Double red flags were raised along the shoreline of Panama city beach, Florida indicating extreme danger in the water due to Tropical Storm Barry which was on its way across the Gulf of Mexico, heading for Louisiana, the force in the water could easily drag swimmers underwater.
Beachgoers could see two figures in the ocean, a man and a woman who had entered the water were caught in a raging current. It was a dire situation because even professional rescuers called to the scene were struggling to save the swimmers, a sheriff's deputy also got trapped in the stormy waters while trying to help.
So when everything was failing, a group of bystanders on the beach got together and formed a human chain to help the sinking couple. Brian Daniels, a visitor on the beach, on vacation, recorded the group joining together to form a human chain. The rescuers clinged on to the group and were able to save the man and woman in the water.
According to witnesses, 50-100 people joined the human chain to carry out the rescue of the two swimmers caught in the raging tides and the sheriff's deputy as well. Four people from the chain also had to be rescued. This hurricane season, rescuers were called atleast 40 times to save swimmers from the ocean that day itself.
Watch Beachgoers forming human chain to save two swimmers caught in rip current at Florida beach
"PLEASE STAY OUT OF THE WATER," Panama City Beach Fire Rescue wrote as a warning on a Facebook post. "Non-stop calls for rescues by members of Beach and Surf and our Fire Rescue members." "Finding chaos and rendering calm is why we are here," Panama City Beach Fire Rescue wrote, "Although many don't heed the warnings, you're all worth the risks. Our hope is that by making these posts, the masses will be informed of what we risk, everything, when we cross the thresholds of our firehouses."
As the authorities are doing everything possible to ensure our safety, we as members of the public, should obey the warnings and stay safe during the hurricane season.