It was a memorable 70th wedding anniversary celebration for Jack and Gerry Eccles in Durham, North Carolina, on July 16 with cake, a photo of the couple from their wedding, their 9 kids, 20 grand-kids, and 24 great-grand-kids "in attendance."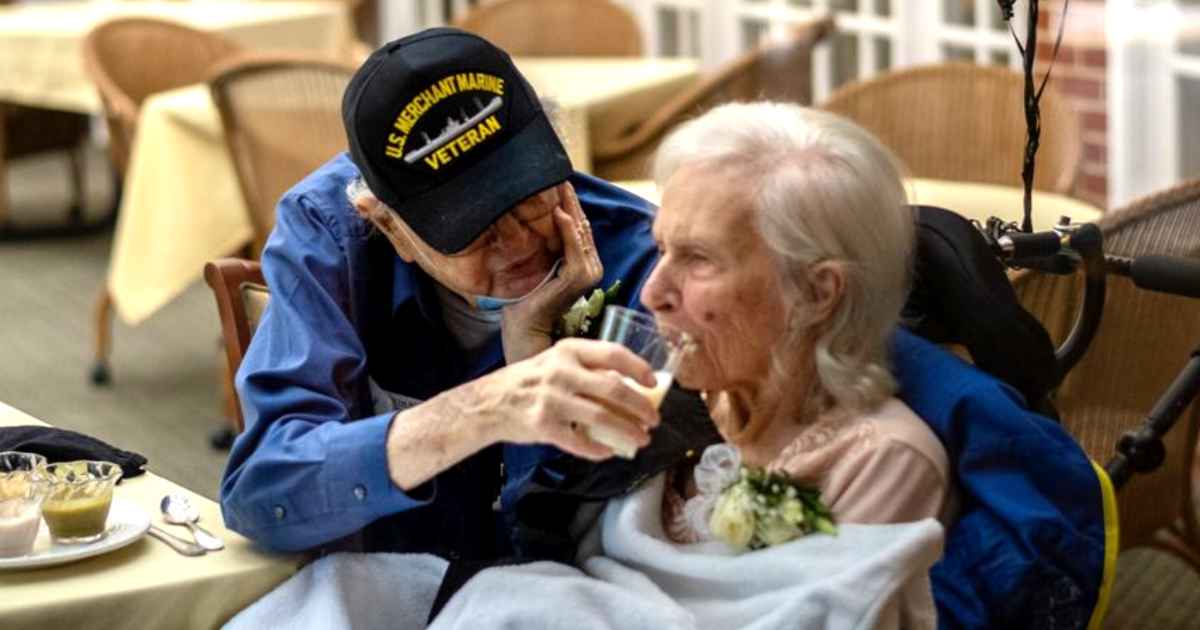 70 years of love and counting…
The world has never been the same since the lockdown has been imposed and just like everyone else trying to celebrate a milestone the Eccleses also faced the same issues since they were in lockdown inside Hillcrest Convalescent Center.
Their daughter and her husband could be seen holding up an iPad outside the window, helping orchestrate the Zoom conference while the couple sat in the lobby and ate their cake. The party lasted for an hour and ended with a special message from Jack.
"Mommie said something," he said, "I'm sure it was, 'I love you guys.'" The celebration was almost canceled as the center where Gerry lives shut down on March 12 and stopped allowing visitors. But 93-year-old Jack wasn't going to have them stop him from seeing his bride.
Not taking 'no' for an answer
He arrived on March 12, at Hillcrest Convalescent Center but was turned away and on March 13, he returned with some belongings and rented a room. "We're married," he explained. "I want to be with her. She took care of me for 70 years, and now it's my turn."
Genece McChesney, one of their children, said, "they were never apart" — and that wasn't going to start now. The center allowed Jack to rent a room, but on condition that he would limit himself to his wife's room or the lobby at times. He has not seen the sun much these last few months and is alone, but at least he's close to his wife.
He was very worried that since he wasn't around, Gerry might stop eating and her health would decline since he was "outside" and unable to do anything. He personally feeds his wife her meals, and the staff has noticed a change in her demeanor.
Olivia Jacobs, one of the center's dietitians, said that his presence is a unique benefit that they can't replicate. "That's something we can't do," Jacobs said. "We haven't been with her for 70 years." She added, "He's always having a good day, he's always happy to see her. … He's with his love, and that's where he wants to be."