Pastor Jay Hewitt, of Friends Church Orange, gives God all the glory after fulfilling his dream of competing in an Ironman Triathlon even though he has been diagnosed with a terminal brain tumor.
View this post on Instagram
With the competition being canceled due to the pandemic, he participated in a solo virtual triathlon with the finish line set up at his home.
Placentia resident, Hewitt completed the Ironman triathlon in less than 14 hours after going through 2 brain surgeries, 30 radiation sessions, and a year of chemo. He said his inspiration for it was his 7-year-old daughter named Hero.
View this post on Instagram
39-year-old Hewitt first saw an Ironman race on TV in 1989 and thought, "they must be superhuman". It was after his daughter's birth in 2015, that he decided he would compete in an Ironman when she was around 10 years old to show her that she can do anything she puts her mind to.
Tragedy set into their lives when in 2018, Hewitt was diagnosed with terminal brain cancer and so he began training earlier than he had planned. "My first day of radiotherapy and chemotherapy in August 2019 was the first day I started my Ironman training," Hewitt said.
Hewitt got in touch with the organizers and they suggested that he be part of the IRONMAN VR Kona virtual race as the pandemic forced them to cancer all races. "I was able to design my own course in my hometown and plot the finish line so it was right in front of my garage, which I knew would give me a sense of coming home that would drive me throughout," he said.
On October 9, Hewitt began with a 2-mile swim in Newport Beach's Back Bay and then biked 112 miles before running the final 26.2 miles. Chemo wreaked havoc on his digestive system.= and he couldn't digest nutrition or hydration, the stomach pain was so severe he threw up.
As he reached the corner to the finish line after 13 hours and 40 minutes, hundreds of people were there to cheer him on. Ironman even constructed an authentic finish line for him at his house. He said seeing his daughter made it all count for him.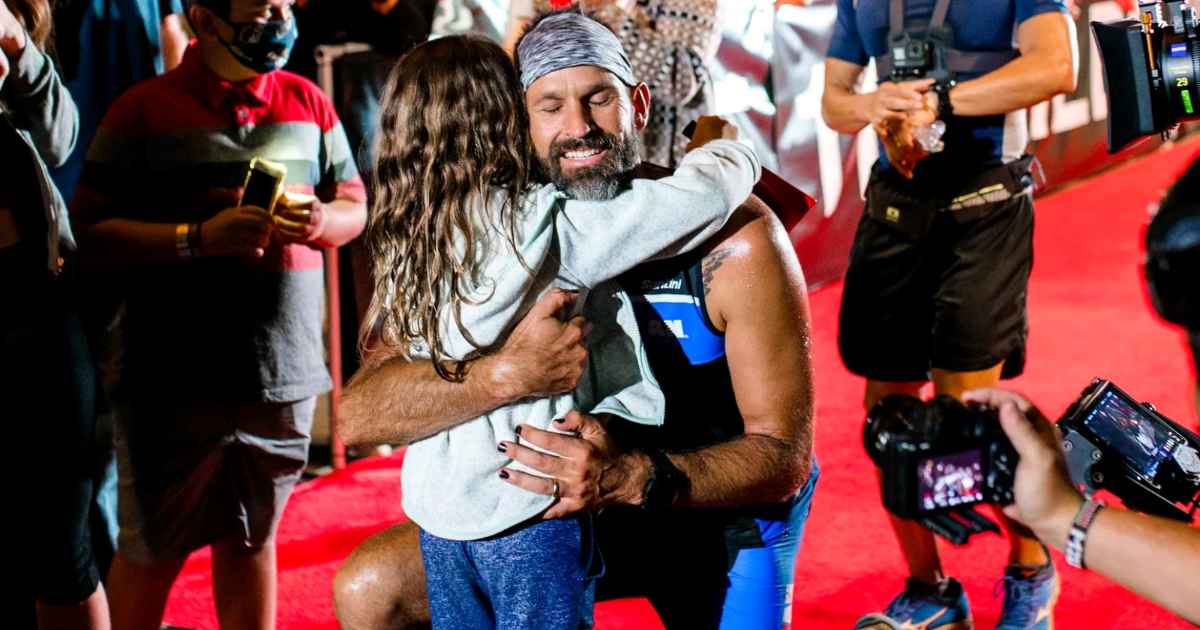 "My daughter and my wife were holding that tape, so I just zeroed in on them thinking 'I'm coming home.' I didn't have much energy, but I gave my wife a kiss, handed my wife and daughter flowers and got down on my knees to say to Hero, 'If I can do it, you can do it. Dream big and never give up hope.' I got to tell her that it was really hard for me but I had thought about coming home to her, and that she had given me the strength to finish."