In a supernatural event where a blazing fire brought down the historic walls of a 150-year-old First Baptist Church of Wakefield in Massachusetts, but left intact a Jesus painting, untouched by the scorching heat, in the rubble.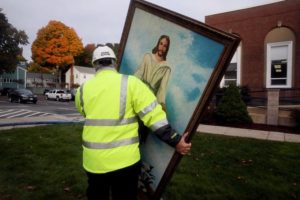 It was a devastating fire which burned down the beloved First Baptist Church of Wakefield in Massachusetts, church goers mourned the loss of their 150-year-old church after lightning struck the steeple of this 1872 church and started the fire.
The flames hit the empty space between the ceiling and the roof, and even the town's fire chief says "there was no stopping it." There was no way the church could be salvaged.
Church member Bob Levesque said, "This is never going to be put back," and added, "It would cost you $20 million to build a building like that today – easily."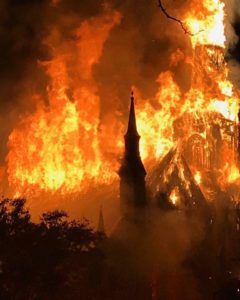 Church officials had to tear down what remained of the building after the fire, which was a difficult time for the congregation and residents who likened the beautiful building as a distinctive part of the town's skyline.
"You just try and focus on the fact that the building is just a building," said an emotional member of the congregation, Amy Burd. "The building doesn't hold all the love that happens in there."
But in all this loss, there was a beacon of hope, an item which was retrieved from the wreckage stood as a light in the darkness for them.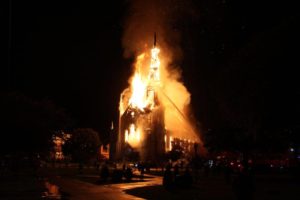 As crews were working to bring down the building, they discovered something miraculous, the fire which brought down the entire church itself, left a Jesus painting which used to stand just inside the church's front doors intact, through the entire ordeal.
Many see the painting as a sign of comfort and hope from God, as they mourn for the loss of their church building, this incident reminds them of the fact that even though the things of the world are temporary, God's love is everlasting.
"We know that we serve a God who specialises in restoring brokenness and who can bring beauty even from ashes," church officials said in a statement. "So we move into the future with trust, hope, and gratitude."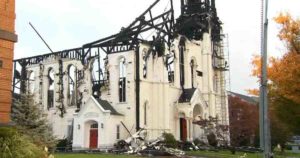 This church congregation has received an outpouring of help and support from other community churches, who have offered space for the congregation to worship for the time being. The whole congregation stands united, praying for healing and trusting in God's plan.
"Sometimes, good things fall apart so that better things can fall into place," Interim Pastor Norman Bendrot said.