This Cancer survivor is thankful that she was given not only one but two chances in life. She now uses her life to bring people to God by waving at motorists and holding up inspiring messages.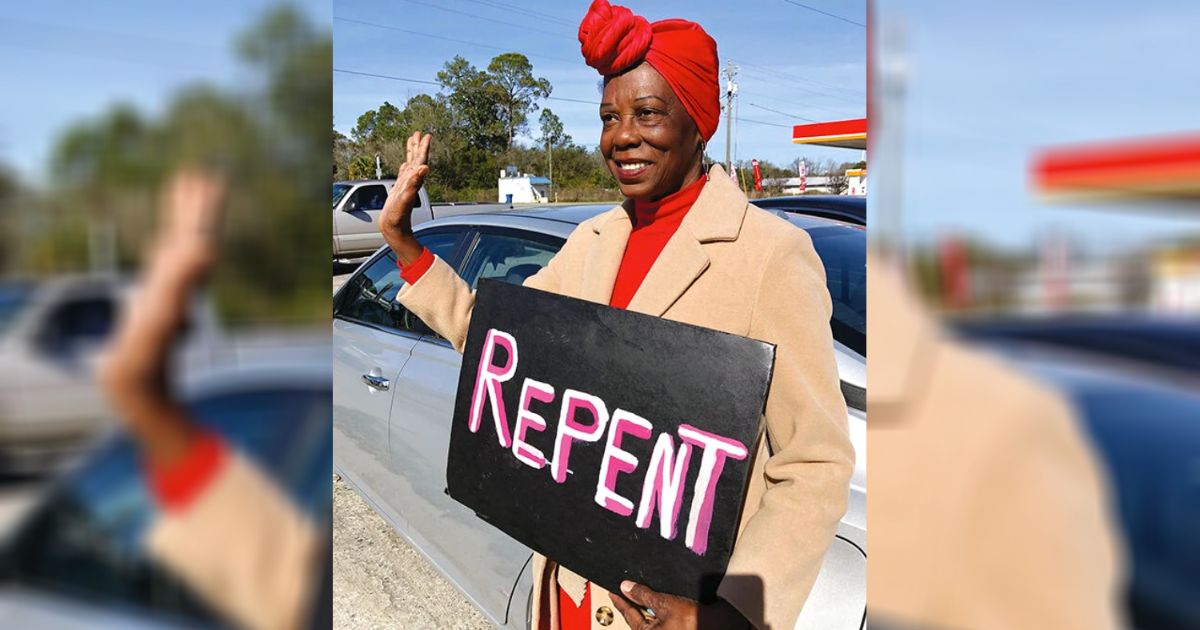 Earlene Sharp loves the Lord and wants to share this love with others. She is a daily mainstay on Patterson's southeast corner of Main Street and U.S Highway 84. She can be seen dressed in brightly colored clothes waving, flashing her big smile, and holding up inspiring messages for the motorists who pass by.
She decided to do this when she met Brian, another corner fixture. He is a mainstay at Main Street and Highway 84 in Blackshear. He uses his megaphone to speak about the Lord. She met him when she pulled over Mc Donald's August last year. Earlene then realized that she could do the same this time, at a corner near her place.
No one would think that this fashionable elderly woman used to drive big trucks. She used to drive 18-wheeler trucks in Georgia and Florida for 25 years but had to stop seven years ago because of an unfortunate incident.
She was stepping out of her milk truck and was in a hurry because it was starting to rain. "I just fell all the way down and onto my back in the road, and it just crushed me," she recalled. "I held my head up, though. I think if I hadn't held up my head, I would have been dead. I messed up my spinal cord and was paralyzed for a while. But I'm alive and walking now! Thank you, Jesus."
She underwent surgery, and thankfully, recovered well. "Thank God I was down there because that back surgery guy did a real good job," she said. "I had to learn to walk again, and I still have to grip my toes to hold my balance sometimes. You see me wobbling around. I fall easily, and that's why I stay away from the edge of the road now."
But, the storm was not over yet. After two years, Earlene was diagnosed with Stage 3 Breast Cancer. She again underwent surgery, had 36 rounds of radiation, and an IV Chemotherapy known as the "Red devil." The name would speak for itself.
The "Red devil" called Adriamycin brought her down. "Oh, Lord, that stuff made me sick," the Miami native described. "I hated to even go to chemo. I had to get blood transfusions and all of that. It kind of did me a job. I thought I had a strong body. I'd seen everybody else with breast cancer get treatment and go back to work and stuff, but it did me different. It knocked me down!"
They say the rest is history. Here she is now, alive and well, encouraging people and leading them to the Lord. "I prayed to God every day for my healing, and He heard me. I'm here and walking and smiling and loving all the people who pass by this corner and honk and wave," she said. "I love them, and I think most of them love me and appreciate me and what I'm doing."
This elderly kind woman is not begging for money or attention for herself. She is praying to God for souls.
No one can stop this woman from bringing God to His people. The only thing which stops her is the weather. She remains at home when it's raining. "Christmas didn't stop me. New Year's didn't stop me. My birthday yesterday didn't stop me," she said with a smile. "When you do work for God, it's not hard. He always blesses us. He blesses us every second. When I breathe in, that's a blessing. Every time I breathe in and out, that's Him. I can't praise Him enough."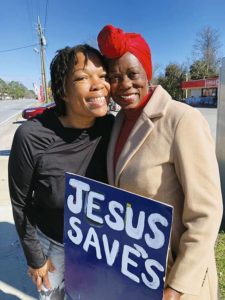 "People need it," she explained. "They really need it. The only thing I can take to Heaven with me is other people." Her colorful "Repent" signage is her favorite.
Her sister, Pamela Foster, is proud of what this amazing woman does. "I think it's amazing," Pamela said. "I like her caring and courage because you know there's a lot of people who don't like what she's doing. They don't understand. But you got a lot of people who love her. I'm inspired."
Guess not only Pamela is proud of her. Many motorists, passengers, and families, who have waved back, honked and greeted her felt the same. Earlene was given second and third shots at life, which she uses well to give glory only to God.
"In the same way, let your light shine before others, so that they may see your good works and give glory to your Father who is in heaven." Matthew 5:16