A 7-year-old boy who woke from coma, after spending 6 hours in the ocean after his boat sank is being hailed as a miraculous survivor.
Julian Hohnen was accompanying his father, Maike Hohnen, on a fishing trip with family friend Stephen Jeacocke off the coast of Queensland when things became horrendous.
When their boat was 8 miles away from land, their boat sank and plunged them into temperatures around 70 degrees Fahrenheit.
Although it may not seem low, being in the water for a long period of time can lead to serious conditions.
They managed to send a distress signal, but their boat sank a few moments later. T
As they were sleeping when the boat sank, none of them were wearing life jackets.
"They had the safety gear on board but unfortunately, sort of in the time that they realized the boat was taking on water to it actually sinking, was only a matter of less than a minute," Kyle Banks with the Sunshine Coast water police said.
The fact that there was a young boy with them made things a lot difficult for them.
Clutching debris, the two men were doing everything to keep the 7-year-old afloat till they were rescued.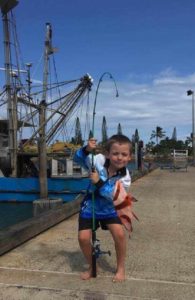 A rescue team was on its way after being spotted and alerted by an anchored tanker.
Once they were airlifted into a helicopter and flown to a nearby hospital, all three were diagnosed with hypothermia.
The doctors in a bid to save Julian's life, placed him in an induced coma.
"It's always a delicate operation when you're winching a patient that's potentially suffering from hypothermia," Kristy MacAlister of the Queensland Ambulance Service said.
She further said, "As you winch them out of the water, the wind temperature can also decrease the body temperature further."
Julian's family was overjoyed when he opened his eyes, he had survived an extremely dangerous situation.
"It's very fortunate that the three people were found when they were," MacAlister said. "They had been in the water for several hours, and they're all very lucky."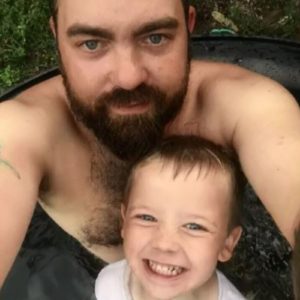 Julian's parents released a statement where they stated that the little boy was stable and his father and Jeacocke were recovering well.
As soon as Julian opened his eyes, he began talking with his family.
Julian's parents thanked the rescue team, Sunshine Coast University Hospital and the Queensland Children's ­Hospital.
Wonderful news ❤️

The seven-year-old boy who was fighting for his life after a boat capsized off the Sunshine Coast at…

Posted by ABC Brisbane on Monday, June 10, 2019
"I'm the luckiest man alive, I've got a beautiful son, who puts a smile on my face everyday!" Maike Hohnen wrote on Facebook.