The Kardashian sisters are infamous for their revealing dresses on social media, but now one of them and probably the leader of the pack, Kim Kardashian has revealed that she no longer wants to flaunt her body!
In an interview she opened up about the new awakening in regards to to her wardrobe after her husband, ace rapper, Kanye West became a Christian.
Post his conversion, Kim and her four children got baptized this past October and Kanye made a shocking announcement to the media about refraining from making secular music and recording Gospel-themed music.
Fans have also noticed a huge change in the business mogul's dressing sense on her hit TV show, "Keeping Up with the Kardashians".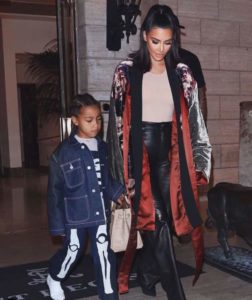 News was out that she had a confrontation with her husband about an overly sensual dress she had worn to the Met Gala and Kim came out saying that she took a decision to change her dressing style. "I don't know if it's the fact that my husband has voiced that sometimes too sexy is just overkill, and he's not comfortable with that," she said.
"I listen to him and understand him. Still, at the end of the day, he always gives me the freedom to be and do what I want. But I have kind of had this awakening myself. I realized I could not even scroll through Instagram in front of my kids without full nudity coming up on my feed pretty much all the time," she explained.
Kim Kardashian's social media posts nowadays reflect the little changes she's making in the dressing department and is showing less skin. She says her urge to flaunt her body is no longer there and in the past did it to create her image.
She said, "I guess I just don't care as much anymore to want to take tons of photos in a thong bikini. I actually just want to lay out."
She is actively pioneering change in the social justice system as she attends meetings in the White House with President Donald Trump and meets lawmakers on Capitol Hill. It was clear to her that being a sex symbol doesn't fit with her role as an advocate.
"I also did think, like, 'OK, I'm here in the White House and then the next day I was posting, like, a crazy bikini selfie,'" she reflected. "And I was thinking, 'I hope they don't see this. I have to go back there next week.'"
We praise God for the conversion of Kanye West to Christianity, and the baptism of Kim and her children. It is not easy being a celebrity and taking a stand for Christ in Hollywood, but as this family is attempting to stand for Christ we pray for the leading of the Holy Spirit on their lives.