A teen who crashed into a mom's mailbox and admitted to his misdeed has been praised by her on social media.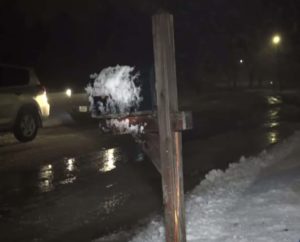 Due to the heavy snowfall, the roads were covered with snow and it became difficult for Owen Sullivan to see where he was going and ended up hitting a mailbox with his truck.
"So I write a little note with some money, and then I go up there, and such a nice lady. I handed her the note and money and she said don't take it!" said Sullivan. But as the incident kept worrying him, he decided to take some cookies over. And was caught on security cameras doing so.
Crystal Collins said she shared the story on social media after her husband told her that the teenager had brought cookies over. She wanted to post on Facebook so that she could find his parents and tell them how great their son is.
"It was really, really refreshing, there's a lot of ugly things in this world, and I wanted to share the post especially with his parents," said Collins.
Social media users in the thousands, have been reacting to this beautiful act of kindness and commenting on what a great young man he is. His parents should be so proud of him, he is an ideal teenager and an inspiration to many thousands around the country.