This heartbreaking story, will really move you. An elderly lady in China, has been taking care of her son, never leaving his side, for the last 12 years.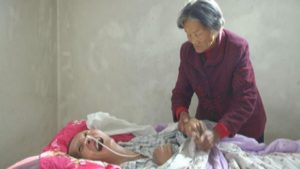 Her son was left in coma because of a horror car crash for the last 12 years, and when he recently came out of the coma, he was greeted by his loving mum with tears in her eyes.
Wang Shubao awoke to see tears streaming down his mum's face, she has been by his bedside day and night for more than a decade.
Wei Mingying, 75, used up all her life savings on her son's medical expenses, which has left her with more than £13,000 in debt.
She told the media that at one stage she was so poor that she didn't eat anything for a month and her weight plummeted to just four and a half stone.
Wang's dad died when he was much younger which meant his mum was his sole carer.
She would typically start her day at 5 am, when she would wash her son's face before bathing, feeding and massaging him to stop him from getting bedsores.
She said, "There was a time when I wouldn't eat for an entire month because we were so poor. "My mouth, my tongue was all dry. I would just drink water."
Suddenly, one day in last October, she saw her son give a strained a smile, a sign he was coming out of his lengthy coma.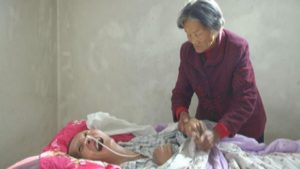 There is no substitute for mother's love, and a mother will never give up on her child.  We salute!