A funny video of a man from South Carolina singing the opening lines of Lion King's "The Circle of Life" along with his donkey will put a smile on your face today.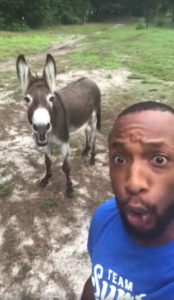 Nathan the donkey joined his master for a really cute duet and can be hear matching him tune for tune.
This is one of the funniest videos we have seen and it has brightened up our day, hope it has for you too.
Psalm 50:10-11 "For every beast of the forest is mine, the cattle on a thousand hills. I know all the birds of the hills, and all that moves in the field is mine."