Recently, an 87-year-old woman is exceptionally thankful for a stranger's effort to retrieve her stolen purse at a Kroger Store in Lemon Township, Ohio.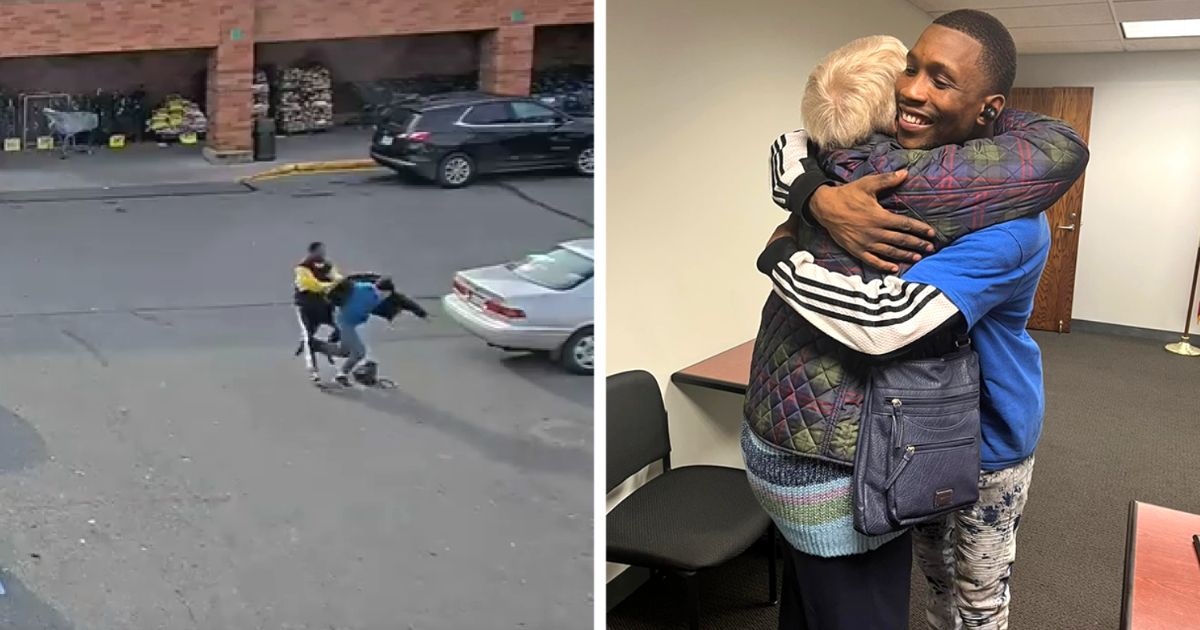 Deshawn Pressley is Pat Goin's hero. He ran after and took back her purse from 58-year-old suspect Derek Vauhn. Deshawn and Pat bumped into each other and had a short talk before the unfortunate incident happened.
This hero was in the grocery store with his lovely 1-year-old daughter when they met Pat. Barely 10 minutes after their encounter, Deshawn heard screams. "I heard her screaming and yelling … it was the yell that I need help," he recalled. "And I just turned around and did what I needed to do as a citizen."
The elderly woman was about to pay for the grocery items she purchased at the checkout counter when Derek snatched her purse out of nowhere. Deshawn immediately chased down the robber, and they ended up in the parking lot. "He was running and looking back, running and looking back, and I was like 'yeah, I'm on you're a–," people laughed as he narrated the chase.
Butler County Sheriff Jones honored this helpful man with a Citizen's award for his heroic act. "You outran everyone else too," the Sheriff said. "They were right behind you. But, he could not run. He was trying." He went on to say, "As you were making the citizen's arrest, he kept trying to get to his car. And then, the police got there…probably it was the first time in his life he's never happy to see the police."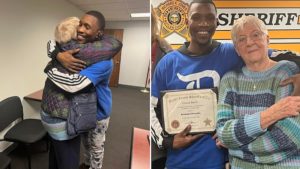 "When somebody jumps in and helps somebody…stole her purse and took off, like a coward,…He came out of the store because you were chasing him. And he was running as fast as he could. He's probably never have run that fast in his life…And he probably doesn't appreciate the police showing up that quick in his life," the Sheriff narrated.
"You took a name what we call, a citizen's arrest. And you make us very, very proud. Everybody just not here, but everybody in the country, and we're proud of you, and I mean that, thank you for what you've done." The Sheriff boasted of Deshawn's selfless act.
Deshawn mentioned that his grandma raised him to help people. His mom died when was he was young, and his grandma took him in. "She did very good by me," he said. "It was good that she taught me what she taught me, and I'm thankful for her…I love my grandmother."
"I just love helping people, especially older women. They definitely need love..," he explained. He shoveled snow for elderly women for free when he was young. "I did it because I cared. I have a heart; definitely, I have a heart," Deshawn added.
The two became instant friends. This grandma and hero will soon have a dinner date and will probably stay connected even after that.
Helping others will never go out of style. Making someone's life a bit better because one cared enough to extend help is the best reward anyone can get.
"Don't forget to do good and to share what you have because God is pleased with these kinds of sacrifices." Hebrews 13:16