A marine who had spent over a year away from home, surprised his mother by turning up unexpectedly. Lakisha McDonald, 42, was the happiest mother on earth when she saw her darling son after spending a long time apart.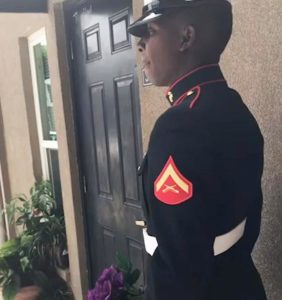 The marine can be seen all suited and booted in his smart military uniform, standing nervously outside his family. Hearing a knock on her door, the Tampa, Florida resident opened the door, to see her son, Darquari, 20, in his Marine uniform.
Lakisha starts jumping out of joy, and even physically lifts her son up from the ground. She was more than surprised to see her son, who was away from home for the last 16 months.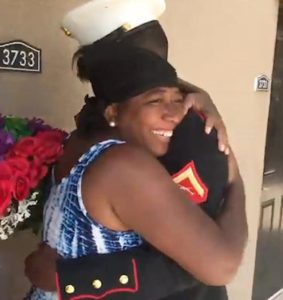 Darquari's sister, Lakia, 19, said: "It was wonderful to see my Brother, I missed him a lot.  "Me and my Brother have a wonderful sibling bond. It makes me proud. My mom's reactions were funny but overwhelming. My mom is our everything, seeing her happy makes us happy."
Watch the emotional military reunion below.