Our police officers really go above, beyond, and into every situation even a pond to make sure people are safe and secure. Recently a Maryland police video of officers rescuing a family from a car that crashed into a pond is inspiring Americans everywhere.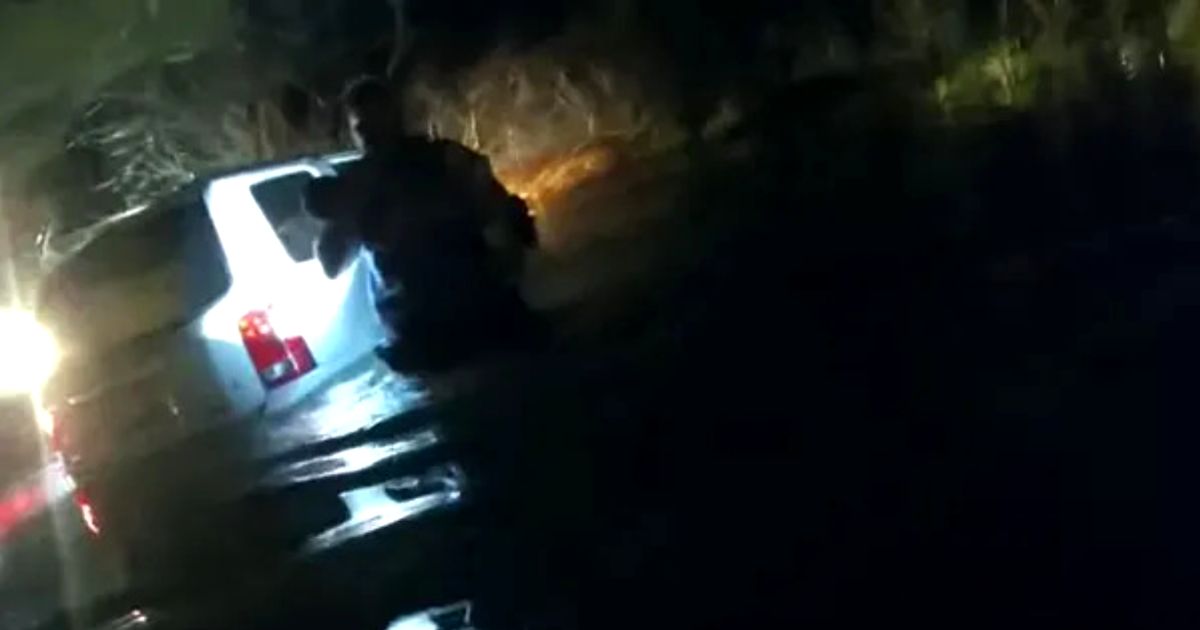 It was a sight that would put fear into the hearts of fathers and mothers as officers were seen carrying a 9-month-old, a toddler, and two adults that were trapped inside a half-submerged car from a pond. According to Anne Arundel County Police, the incident was first noticed by an officer patrolling the area of Severn-Danza Park in Severn, Maryland, after 9 p.m when the vehicle crashed near him.
The alert cop was able to quickly locate the vehicle after it lost control, went off-road, and hit trees and fences before finally crashing into a drainage pond in the park. Water was quickly filling up the vehicle and all four people were still trapped inside, according to police.
In a statement about the incident, the department said, "The supervisor and an officer, without hesitation, leaped into action to conduct a rescue of the four occupants, including a 9-month-old and 3-year-old child," they said. The officers' bodycam shows them breaking the passenger-side windows in order to rescue all the trapped individuals.
What touched people the most was the sensitivity and care they showed while rescuing the little baby and toddler and how they carried them to safety and then returned to help the adults out. "Aside from being cold and wet, everyone involved was unharmed," police said. The reckless driver was identified as 27-year-old Oswaldo Ramirez-Lopez, from Glen Burnie, Md., apparently, he didn't have a license to drive and also had outstanding warrants in his name.
Incidents like these go a long way in changing the perception and attitude of citizens towards the police. Not all of them are as bad as they are shown to be. Let's keep praying for people to see them as they are and also for their safety and security.
Psalm 23:4 "Even though I walk through the darkest valley, I will fear no evil, for You are with me; Your rod and Your staff, they comfort me."
Watch: Officers Rescue  9-Month-Old, Toddler and Adults Trapped Inside Half-Submerged Vehicle
Western District
Water Rescue – Severn
22–711195

On Friday, April 1st at approximately 9:15 p.m. an officer was on patrol in Severn-Danza Park when he heard a crash in his immediate vicinity. He discovered a vehicle had lost control on Donaldson Avenue and went off the road through trees and a fence before becoming half-submerged in a drainage pond in the park. The vehicle was taking on water with occupants trapped inside. The supervisor and an officer, without hesitation, leaped into action to conduct a rescue of the four occupants, including a 9-month-old and 3-year-old child. Officers had to break the passenger windows of the vehicle to gain access inside. Officers carried the children to safety and returned to rescue the adults. Aside from being cold and wet, everyone involved was unharmed. The unlicensed driver was arrested due to outstanding warrants.

Arrested:
Oswaldo Ramirez-Lopez
27-year-old
Glen Burnie, Maryland

Posted by Anne Arundel County Police Department on Monday, 4 April 2022