The Belfast community was busy helping a deaf woman find her beloved missing dog the past couple of days. An unfortunate incident brought a dog-loving community together.
Volunteers and strangers combed through woods and yards, posters were put up, and Social media was monitored for any tips that would lead them to find an adorable white terrier named "Ruthie."
Ruthie went missing several days ago when she jumped out of her fur parent's car wearing her retractable leash. Marina Delune, her owner, waited for her to come back but, to no avail. "I cannot tell you how tortured I was by the thought of her being scared, so scared, and so cold," the worried Marina recalled.
Marina, 67, has Cerebral Palsy and chronic Lyme, which caused a profound hearing loss. She also has progressive paralysis, which made searching for her dog extra challenging. This helpless woman then resorted to Social media to ask for help to find Ruthie. She posted her story on Belfast's Facebook page.
She was surprised when help started to pour in. "But the response that I got was literally overwhelming," Marina said. "It was extraordinary. I couldn't even keep up with all the responses. I'm not very Facebook savvy, and I couldn't respond to all the posts. What happened was that half of Belfast was out looking for her in the woods."
Raymelle Moody, the admin of the "You know you love Belfast" Facebook page, was amazed but not surprised with how the Belfast community responded. "It was just a huge sort of snowball of community effort," she said. "This community is such a big dog community. And even if you didn't know Marina and Ruthie, it was easy to fall in love with Ruthie. And because Marina is a disabled person and couldn't search herself, it was easy to want to help her."
One of the people who helped Marina find Ruthie was Heather Susee. Heather and her three daughters headed to the park to look for the dog. They even made lost dog posters and put them up all over the town. She said, "I wanted my children to see how we can serve people."
Another woman named Kimberly Mitchell, 53, from Frankfort came to help. She is an animal lover with disabilities caused by a brain injury years ago. Kimberly walks with a cane and has cognitive challenges. Despite that, she still wanted to help. "I just knew I needed to go and make contact with her because I live alone with disabilities and a dog, and I know what it feels like to need help," she explained.
Kimberly went to Marina's house to help her out. But, when she pulled into the driveway, she sensed that Ruthie was just nearby. "I got goosebumps all over my body. I knew that Ruthie was there somewhere," she described.
Despite the cold rain, Kimberly searched for her at their neighbors' yards but Ruthie was not there. She paused and said, "I was looking for her logically, and it wasn't working. So, I got quiet and got back in my heart. When I operate from my heart, I hear a true, simple message. I heard, 'Over there.'"
She went over to a neighbor's house and saw a tiny hole below the deck. She used her phone's flashlight to check if Ruthie was there hiding.
"Way up in there [under the deck], I saw her little face. She was looking right at me," Kimberly said. "I got numb. I knew in that moment, I was witnessing a miracle. There was no thought in my head. It was all heart. I think that it was the collective love of the whole community."
Ruthie's leash was stuck and she had gotten it hung up. The house's owner, Collin Brewster Cunning, crawled under the deck and freed her. "I had a very small rescue role," he said. "It's kind of insane that she was under the porch the whole time."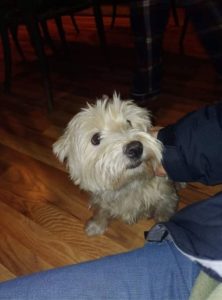 The reunion of Ruthie and Marina was nothing but special. Marina cried and held on to Ruthie and her two heroes/rescuers. "We were in a three-way hug with Ruthie in the middle. It was absolutely amazing," Kimberly said.
Marina was also contemplating if she could still take care of Ruthie, but she postponed deciding about it for another day. All that matters now is that "Today, Ruthie and I were just so cozy and warm and happy and grateful."
Indeed, we are better together! Big thanks to the concerned people of Belfast who worked non-stop to reunite this white terrier to a woman who loves and depends on her greatly. It pretty much tells the world how kind and helpful the Belfast people are.