The story of Nathan and Kate Stapleton's love and dedication to their marriage, family, and life, in general, will uplift and encourage you to keep going and not give up.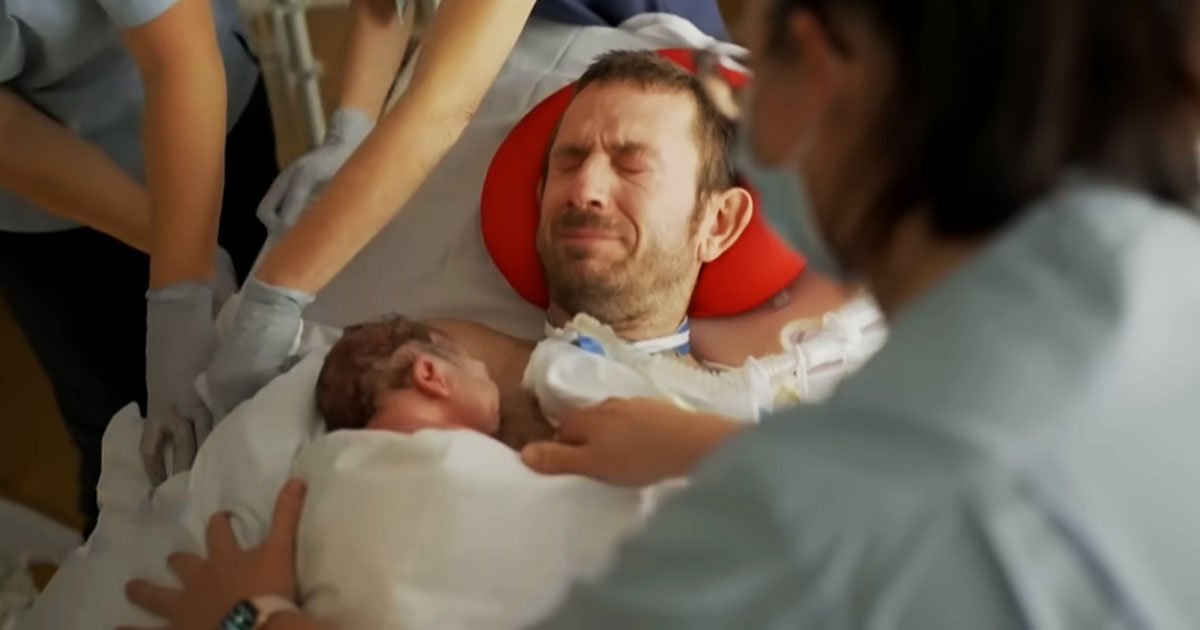 This year has been a tough one for the former Australian professional rugby league footballer, he became paralyzed from the shoulders down after a tragic accident. But nothing could stop this brave man from being at the birth of his second son.
Kate said, "You don't ever expect to find yourself in this situation but I'm just so proud of his determination and strength and just how strong he's been for us," she said. Nathan and Kate are each other's rock.
They have been married for 15 years and have shared half of their lives together; they are just inseparable. "For her to still be strong and by my side, I consider myself probably one of the luckiest men alive," Nathan said.
The ex-Cronulla Sharks player Nathan was dead for 16 minutes after breaking his neck during a rugby league. "To be gone for 16 minutes and still to be here with my family and everything, I'm just so grateful because I still get to watch my boys grow up," Nathan said. "That was the scariest thing for me because I love, I love my boys, and I love my wife, and I didn't want to miss out on that," he said.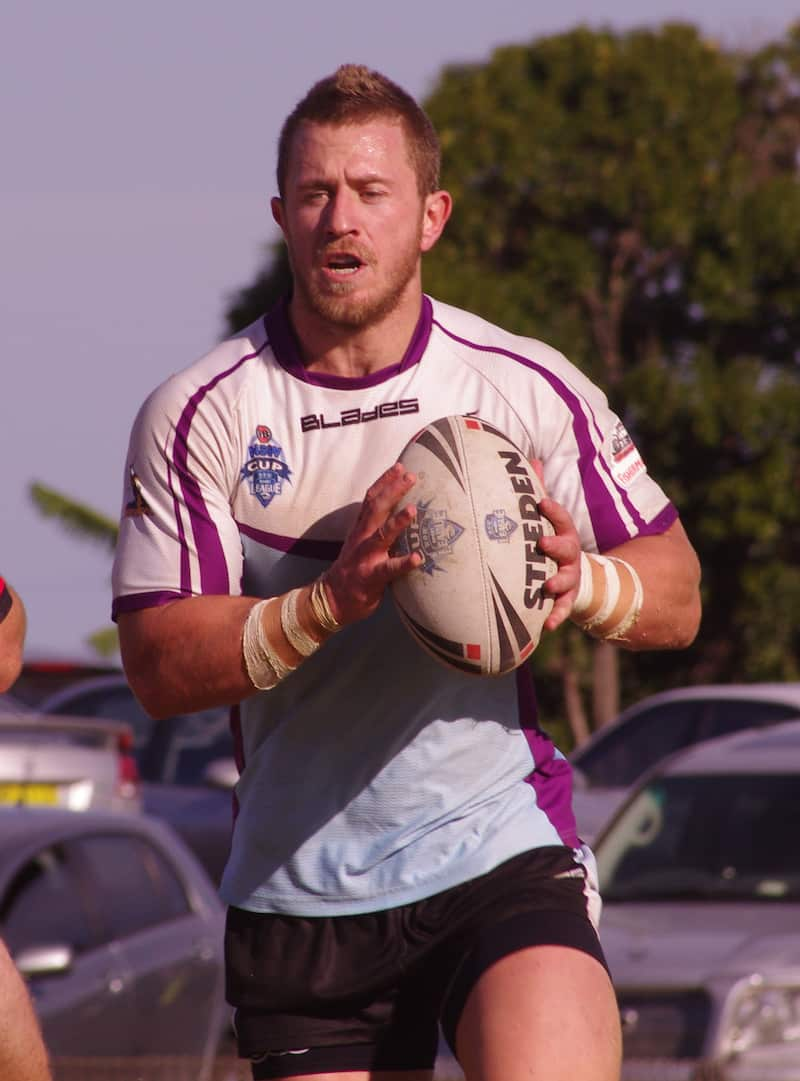 The former NRL player has played 61 games, scored 17 tries for the Cronulla Sharks, and is not a stranger to injury. He retired from professional rugby league and got married to Kate, and welcomed his son Harry. They were pretty comfortable and were living life happily on a farm in New South Wales.
But everything changed on April 9 this year, when Nathan played for Boorowa Goldies in West Wyalong. You see it was his first and only game. "It was just like a normal, typical game I was actually enjoying, having fun. I was playing with Kate's brother, which is what we've always wanted to do," he said.
In the second half, something happened that almost killed Nathan. "The last thing I remember from the game was Kate's brother's hands on my head," Nathan said. "That's when I knew something… it wasn't good." Nathan's neck was broken, and his spinal cord was injured. "I was pronounced dead on site," Nathan said. "I was gone for 16 minutes. It's hard to think about that because everyone was thinking the worst, obviously."
But thank God for off-duty nurse Louise McCabe, who was there at the right time right place. She helped to keep him alive till the ambulance arrived. "If she wasn't there, I wouldn't be here to tell the story," Nathan said. That was a terrible time to get injured because Kate was seven months pregnant. She was told by Nathan's doctors to prepare for the worst.
"They advised me that it was highly likely that Nathan was going to have severe brain damage, which for me was worse than any of his neck fractures," Kate said. But Nathan wasn't ready to quit without a fight. "When I finally came out of sedation and realised what was going on, it was tough," Nathan said. "The doctors came around and basically said, 'you're not going to have any movement. You're not going to be able to walk again," he said.
Nathan was paralyzed from the shoulders down but his brain wasn't affected which was a big relief to Kate. "Even though he was so highly sedated, the fact that he could say a couple of things and he was still getting really pissed off in situations. I was like, 'it's still Nath' and it was such a relief," she said.
But Nathan was missing his former self and body, "I had to make a choice. I could either sit here and feel sorry for myself and bring everyone down with me, or suck it up, accept it for what it is and focus on the things that I can do," Nathan said.
Soon the time for the birth of their second son came up and Kate and the medical team had a huge task before them to make sure Nathan could be there in the labor room. "My biggest fear, obviously, was not having Nath there," Kate said. Nathan's ICU team at Sydney's Prince of Wales Hospital and the nearby Royal Hospital for Women worked together to make it happen.
"It's about his dignity and their whole experience as a family," Clinical Nurse Consultant Steph Rhodes, said. She was in charge of planning it and she made sure staff and equipment would be available to get Nathan into the birth suite when Kate went into labour. "I've worked in ICU for about 10 years and I've never even heard of this kind of thing happening and to be honest, it's not really a situation that arises too often, it's a pretty remarkable and pretty rare situation," Steph said.
Nathan spoke words of encouragement to his wife during the birth of his son, "Through your nose out through your mouth darling, nice and slow, that's it," Nathan says. "Just breathe through it. You've got this darl." Soon Kate delivered baby Angus and he was placed on Nathan's chest. He is their good luck baby. "We're very thankful and blessed that we could be there together at the birth and it's something that we'll never forget," Nathan said.
All the things Nathan wanted to do he couldn't, like hold his wife's hand during labor, but he still got to hold his baby and that was a lot for him. "I got to witness the whole thing and I still got to hold my own boy, and I still got to kiss my wife and tell her how amazing she was. It was bittersweet." He called Kate "incredible."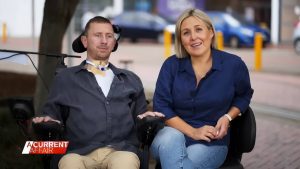 The entire experience was made possible by dedicated nurses and medical staff, "I can't be prouder. As a nurse manager of my team, they're outstanding," ICU nurse manager Megan Pinfold said. "The birth of Angus was such an amazing uplifting moment for the whole unit. Everyone stepped up and went above and beyond." She added, that the complete extent of Nathan's injury won't be known for another year but his previous fit self and mental strength is helping make a world of difference.
But she added that Nathan would likely be on a ventilator forever. Nathan has a new wheelchair, that he controls with his chin and his laptop, which he commands with facial expressions and voice-to-text. The family hopes to get him out of the hospital and back to the country. Their older son, Harry, a toddler himself, has been coping well. "I think the question was, 'why is Dad in bed?' and 'why is he here? What are all these tubes on Dad?" Nathan said. "But now over time, it's just normal and it's so beautiful because for a toddler to understand that dad's okay, and that means the world to me."
Nathan remains positive about his future. He said, "The injury, we can't change it. It is what it is," he said. "No one wants to be where I'm sitting but at the end of the day there's so much to look forward to. "I've got a beautiful wife, I've got two beautiful boys and I'm blessed I can still be there for them." "It is going to be different and don't get me wrong, there's still good and bad days to come – it is a rollercoaster ride but we're still blessed we can still bring our boys up together."
Kate only wants her husband to be with her and doesn't care about the wheelchair. "I'm so proud of him. It's been an emotional rollercoaster to be honest," she said. "If I've Nathan and his personality, that's all I care about so we're good." she said. Nathan and Kate have received support from Rugby Australia, the Cronulla Sharks, Boorowa and Tenterfield communities and their family and loved ones.