Neighbors stepped in, in Gloucester Township, New Jersey, to help keep their neighbor from being evicted from his house.
Lamar Harris, 39 was about to lose the home he shared with his father, who died suddenly in 2015. Harris is mentally disabled, and cannot drive and has limited reading abilities. But he has always been known as a helpful and generous person in the Cherry Circle neighborhood.
"He takes out people's trash on Mondays. He brings the empty trash cans back in," neighbor Michelle Bradbury said. "If you are on vacation he will get your newspaper. He'll get your mail." He loves his nickname, the "Mayor of Cherry Circle," and lives alone in his house as his entire family is dead now.
"His life has been full of tragedy," neighbor Terri Fretz wrote on a GoFundMe campaign that she has set up on his behalf. His mother passed away when he was 8 years old and his grandma died when he was 12 years old. In 2015, his father died and the next year, his brother also suddenly died, leaving him all alone.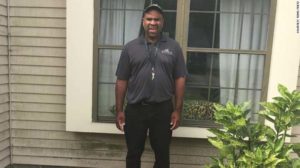 Fretz helped set up the fundraiser to help him arrange the $50,000 dollars that he owes in property taxes, which are unpaid since his dad died. "As a result of the death of his family members, his reading deficits, and his inability to understand finances, he has fallen behind in his property taxes," Fretz explained. "They have not been paid since his father died in 2015. Gloucester Township has filed a lien for back property taxes and Lamar is in imminent danger of losing his home."
The eviction date was set at Aug. 5, and neighbors were working fast to save Harris' home. "Everyone says somebody has to help him," Fretz said. "So I'm somebody. We're all somebody." She said that Lamar works hard in the community, cutting lawns and helping people with their trash.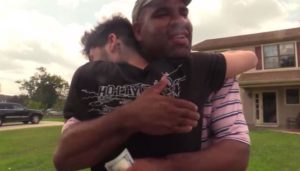 Neighbors were in shock when they heard about the debt. "We didn't even think about it," Fretz said. "We helped him fix up his home. We have all his bills set up to be paid, and we were helping him with his bank account. But we never thought about the taxes."
The neighbors also helped in obtaining an attorney who could advocate for Harris' current and future needs, like proving to the state that he has the means to pay property taxes in the future. "I've been looking after him for so many years now, he's like part of my family, and I just can't let anything happen to him," neighbor Tom Brake said.
They have received more than $75,000 which has been donated to Lamar's campaign. "This is the only life Lamar knows," Fretz wrote. "We, his neighbors, all agree he would not be able to function anywhere else. There is no place like home."
Harris does not know all what is happening in respect to his financial situation, all he understands is that there is a problem. "They love me and they are trying to help me," he said. The Gloucester Township mayor now has got involved in Harris' case, and said, "We will continue to research this matter to ensure the proper care of Mr. Harris."
Due to the efforts of Lamar's neighbors like Fretz, his house will not only be saved but he will live in safety and peace all the days of his life.
Watch the inspiring story below.