South Carolina news anchor Greg Adaline shared a moving story on Facebook about an encounter he had with a Walmart truck driver. And his touching post reminds us all to be grateful for these unsung heroes who are working hard for the country and the people in the midst of Coronavirus chaos.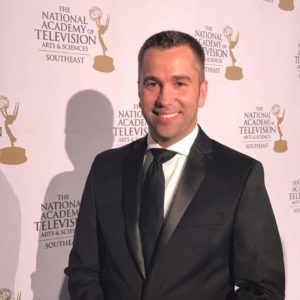 The job of a Walmart truck driver is not an easy one even in normal conditions. But, since the coronavirus pandemic struck the nation, it became even worse.
Due to the fear over COVID-19, people rushed to stock up items including groceries and cleaning products. This resulted in a sudden shortage of things like hand sanitizer, soap, and even toilet paper all over the country. On the otherside, employees like truck drivers are working tirelessly to fill up the empty shelves at stores. And that's why Greg Adaline took a moment to thank and pray for one Walmart truck driver in particular.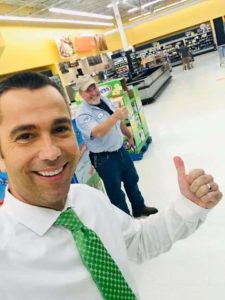 News anchor Greg Adaline was shopping at Walmart when he noticed a man just watching as the people cleared the shelves. He felt he wanted to speak with the stranger.
Greg started the conversation by asking the gentleman what he does for a living.
"I'm a Walmart Truck Driver," the man replied.
The response moved him in a way he never expected.
"For some reason I can't explain — I started to choke up," Greg Adaline recalled.
Greg just wanted to express his deepest gratitude to the man. He went on to call him a hero. But the humble man refused to accept the praise.
"Oh no — really. I'm just doing my job," he said.
But as Greg Adaline thought about the Walmart trucker's gruelling schedule due to Coronavirus outbreak, he saw things differently:
"We shared a conversation about his long days on the road — how vital his work is to our present predicament as a Nation… and how he is now greeted and received by the public as he carries a truckload of food and supplies to stores…how more people now have a whole new appreciation for his line of work."
"It's more than a job these days. It's a mission" the news anchor said.
As their conversation began to come to a close, Greg Adaline made a request.
"Can I pray for you?" he asked the Walmart truck driver.
After he accepted the offer, Greg boldly prayed with the man right there in Walmart!
Dear Lord,

Thank you for this man… and the critical job he is doing to help during this crisis. Keep him safe and healthy. Bless him and his wife. We pray that this situation our country faces would soon pass with Your divine help.

In Jesus name, Amen.
Greg Adaline shared about his divine experience on Facebook.
"we are certainly in good hands in this country… because of guys just like this." Greg wrote.
The post went viral and people praised the Walmart truck driver for his service, as well as Greg for bringing these unsung heroes to the main stream.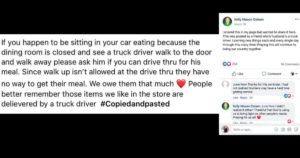 This touching story makes us think about the men and women who work hard to keep our communities safe and healthy.
How amazing to see someone making that extra effort to serve others during the hardships.