This North Carolina sheriff stood his ground and refused to scrub off Philippians 4:13 on his office's wall despite demands from a leading atheist organization to take it off.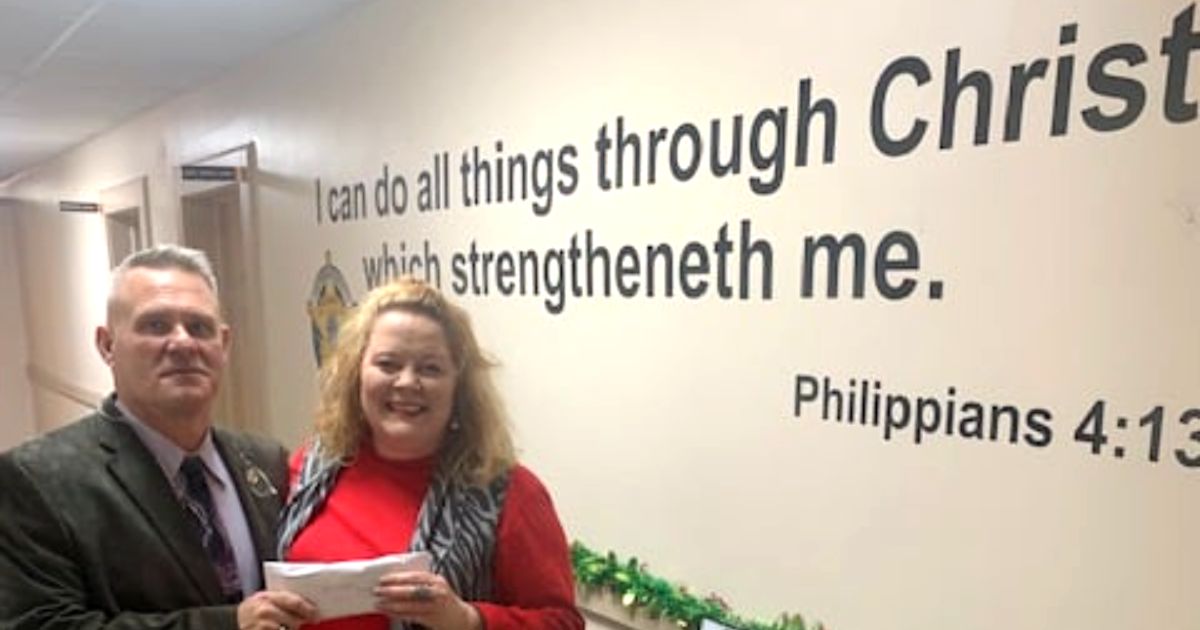 Jody Greene, the sheriff of Columbus County, North Carolina, posted a lengthy message on Facebook to address Freedom From Religion Foundation's concerns. He posted the statement two weeks after receiving a letter from FFRF Staff Attorney Christopher Line. He asked the sheriff to remove the "exclusionary" and "unconstitutional religious display."
Jody cited the following as his reasons for putting, "I can do all things through Christ which strengtheneth me" on the wall.
"First, the Bible verse was placed on the wall after I took office. It was paid for with private funds, not with county funding. It is very motivational to me and my staff. Here at the Sheriff's Office, we work hard in everything that we do. Before we execute a search warrant or any service that puts our people in immediate harm's way, we ALWAYS go to the Lord with a group prayer. ALWAYS!" He explained how the word of God helps them in his life and daily police operations as well.
He also wrote that "I have been in law enforcement for over thirty years. My training taught me to value God, family, and my country."
Jody also questioned why the verse suddenly became an issue. He said, "Going back to the Bible verse, I have taken many pictures with that Bible verse in the backdrop with not a single issue, but now that we are going into an election year, it is an issue. How absurd!"
This sheriff also boldly declared his faith by saying, "This is a political ploy. Some want a person that they can control. Companies spend thousands of dollars on motivational classes, to come up with motivational slogans. My motivation comes from the greatest motivational speaker of all times, Jesus Christ."
"Currently, in Columbus County, we are at 180 overdoses. Drugs and violence are killing our youth. We need more Jesus and less politics," he said. "I am not scared of much, but I am afraid of burning in hell," in response to the Freedom From Religion Foundation's post, mocking Christians' fear of burning in hell.
On the other hand, Atty. Line indicated that the presence of Philippians 4:13 on a wall at the County Sheriff's Office was an example of a government agency making an "unconstitutional endorsement of Christianity." He also argued that "The Establishment Clause, at the very least, prohibits government from appearing to take a position on questions of religious belief" to support his claim that the Bible verse display is unconstitutional.
Several personalities like Representative Brendon Jones, five County Commissioners, and Franklin Graham, CEO of Samaritan's Purse, have expressed their support to the County Sheriff. "I'm thankful this sheriff knows where the true solution to life's challenges and problems comes from, and he is standing his ground," Franklin posted on Facebook.