The novel coronavirus pandemic has put almost the whole world under lockdown, but there are brave doctors and nurses who are duty-bound to fight the virus daily while on the frontline.
A hospital nurse shared a video where she broke down in tears while describing what she's seeing as a result of the coronavirus pandemic and has been seen by thousands of people all over the world.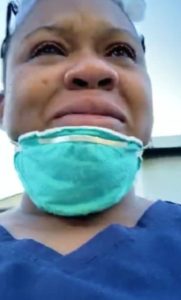 The overwhelmed hospital nurse is Adrienne Johnson from Louisianna who decided to record a message during a break from her shift, so others could get a glimpse of the reality behind the hospital walls.
"The virus is real. I see it with my own eyes," a tearful Adrienne tells the camera, regarding coronavirus. "It's attacking people."
She explained how patients are going weeks without seeing their loved ones and how many are dying all alone. And she says watching it all play out takes a huge emotional toll on her. "I can't sleep, I'm barely eating — because you're just seeing it destroying lives. . . and there is nothing that you can do," she sobs.
She feels like quitting but then she says, "But I know if they don't have nobody, they got me," she says. "And God didn't put me in this position, He didn't put me in this place and time, for me to give up."
Adrienne Johnson tearfully tells people to stay home and to love on their family, her emotional video is a powerful reminder of who the real heroes are in this world.
After her video went viral, people felt concern that Adrienne was touching her mask throughout the video. She thanked them for their concern and assured them that she immediately discarded the mask after filming her video and put on a new one before seeing any patients.
The video has caused a flood of prayers and support for hospital staff like Adrienne and she thanked people and wrote on Facebook, "I stepped away and came back to so much Love! I need it and I appreciate every one!" she wrote. "Thank you so much! My heart is touched!"
Keep praying and uplifting these heroes in your prayers because they are really doing their very best to keep each one of us away from harm due to the novel coronavirus pandemic. Stay home and stay safe.