Elizabeth Francis, the oldest living person in Texas, has recently celebrated her astounding 114th birthday, with not one, not two, but five generations of her family.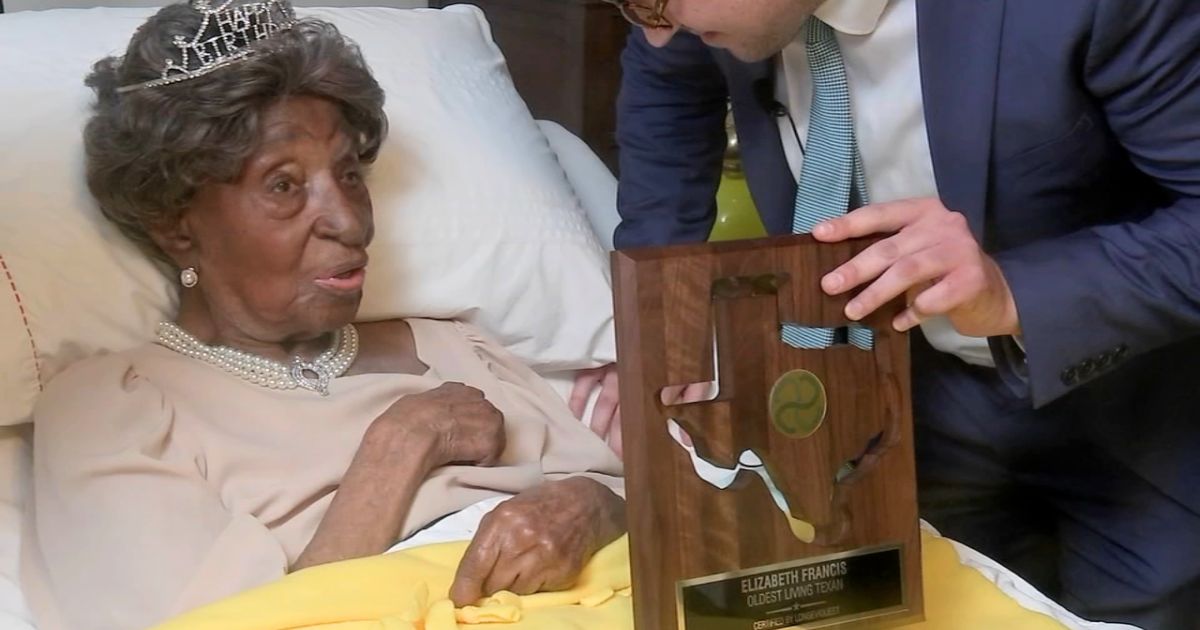 The term "centenarian" describes someone who's lived to 100 or more. However, Elizabeth belongs to an even rarer group called "super centenarians" – those aged 110 and above.
"She is the oldest in Texas, the oldest living person in Texas, number two in the United States, and number seven in the world." Researcher Ben Meyers shared.
Born in 1909, a time when William Taft was the U.S. president, 90% of babies were delivered at home, and when neither women nor Black individuals could cast their vote, Francis has been a silent witness to some of the world's most transformative events.
Despite the weight of the history she's lived through, from world wars to pandemics, her memory may not encapsulate all. Yet, her life stands testament to simplicity, grace, and an enduring faith.
When asked how it feels to be 114, Elizabeth's reply was simple and heartfelt, "I don't know, I just thank the good Lord for keeping me."
Elizabeth's family tree itself is remarkable. Her sister lived until 106, her daughter is currently 94, and even her caregiving granddaughter is 68. Throughout her life, Elizabeth has made wholesome choices that have contributed to her longevity. She's never smoked or drank and emphasizes eating "everything," with a fondness for home-cooked meals.
Her granddaughter, Ethel Harrison, said, "She always grew her vegetables in the backyard. I never saw her go to a fast food restaurant much as like Chick-fil-A and all the places I liked to go. She never did that."
For Elizabeth's daughter, Dorothy Williams, her mother's age is both a wonder and a blessing. "It's hard to believe, but it's a blessing. Because she has been a wonderful mother and grandmother to all of us. She has been our backbone," Williams remarked.
Her life's mantra? "Treating people like you want to be treated… that's the way God wants you to do," as shared by her granddaughter Harrison.
Yet, for Elizabeth, there's a divine reason for her long years. Her answer when asked about her age? "This is a blessing, the Lord's blessing."