An act of kindness has resulted in an unlikely friendship between two strangers after a social media post first brought them together.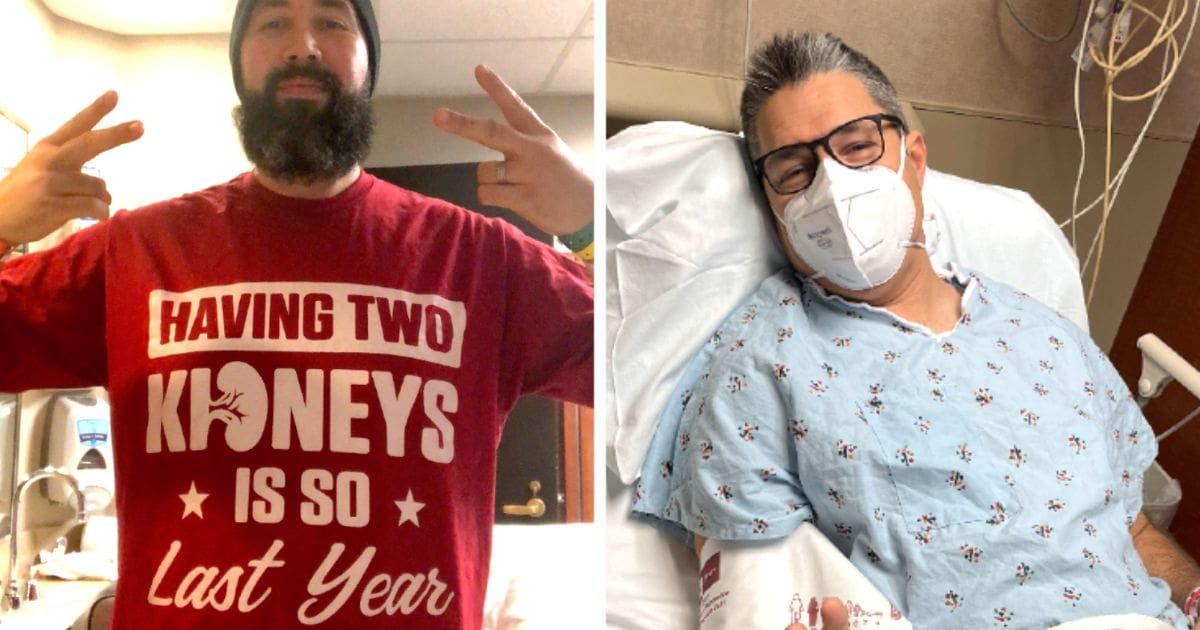 46-year-old single dad, Steve Sanders lives in Charlotte, North Carolina, with his two children. He has been suffering from a rare genetic condition called uromodulin kidney disease (UKD); which results in his kidneys failing over time.
Although he was living a healthy life, going to the gym regularly, and riding his mountain bike, the doctors warned him of his kidney function going down and him needing dialysis.
The very thought of dialysis made Sanders start a search for a kidney donor through a website he created and shared the info on social media. "I did not want to go on dialysis … as an active father of two young kids," Sanders continued. "If you go on dialysis, it's really taxing on your body."
Sanders said when he shared the post he got responses from 26 people who began submitting paperwork to become donors, but nothing moved beyond that, it could have been that they weren't matches, or they stopped the process. "I don't fault them for that," Sanders said. "I completely understand."
Thinking that he won't get a donor, prompted him to start preparing for dialysis, "I was just thinking, 'OK, what am I going to have to do and am I going to have to start coming to terms with the potential for dialysis at some point?'" Sanders said.
That's when God intervened and Chris Perez, 40, entered his life when he contacted him to be a kidney donor and ended up being a perfect match in late 2021. "It was a total relief," Sanders said, "I was happy that somebody was willing to give me a chance."
Chris Perez said that his wife told him about Sanders in July 2021 as one of her co-workers shared his story on social media. At the time, Perez was the director of volunteer services at Atrium Health Carolinas Medical Center where their surgeries took place later.
Talking about Sanders' condition, he said, "Here's this serious health issue that you can't control and is no fault of your own, yet could severely impact your quality of life and your ability to see your kids grow up." When his wife asked him if he would donate his kidney, he responded, "Sure, why not?"
Perez filled out the paperwork and sent it in, and started the process after a few weeks. Chris Perez wanted to practice what he preached to others on kindness and empathy and that is what inspired him to donate his kidney to a stranger and fellow dad from NC.
He wants his kids to grow up and appreciate what kindness was, he said, "I would love for [my kids] to grow up one day and be like, 'Hey, you know what? My dad was a good example of being kind of others.' That's really what I hope for."
Once the hospital confirmed his kidney was a fit for Sanders, he agreed to share his phone number with Sanders and they both hit it off immediately from their first call. "It was an immediate connection," Sanders said. "It was like I knew this guy my whole life without ever meeting him. We clicked right away."
Perez also seemed to agree on this saying, "Our sons have the same name, we have a similar background, we studied the same thing in college, we just really hit it off. [He] was like an old friend." It was a relief for Sanders to have a kidney donor with whom he could relate so well.
"Chris has made me feel very comfortable about not owing him anything," Sanders added. "This is a guy who did this out of love and kindness and a very genuine place. And that felt really good … and really harbored a place for us to become great friends."
A selfless act by a stranger —an Atrium Health employee—saved the life of Steve Sanders. Learn about the kidney transplant that saved Steve's life and the man who made it happen. https://t.co/StTn385H6v #NationalDonorDay

— Atrium Health (@AtriumHealth) February 14, 2022
The operation was performed by Dr. Kent Kercher, M.D., at Atrium Health Carolinas Medical Center, he removed Chris Perez's left kidney using a laparoscopic device. Kercher added that in his 22 years of transplants he observed there were only 10% from anonymous or strangers.
Meanwhile, Sanders was feeling great after getting a new kidney, "I woke up and I felt really great," he said, "I felt like the fog was lifted. I didn't feel fatigued and it just got better and better over the coming weeks."
The two dads were operated in January 2022 at Atrium Health and even after the transplant, they have continued their friendship. "For him to give a piece of himself to extend my life and my quality of life so I can be a good dad is the greatest gift I could ever have and could ever get," said Steve Sanders.
"My life has been enhanced by knowing him, because he's just a really great guy and he's a good friend," Perez said of Sanders. They text each other almost daily. Let's keep praying for Sanders and Perez and their families for good health and may others be inspired by their story of kindness and grace towards each other.