At 5:15 AM, with the sweat still drying from his workout, Pastor Mark Morrow was pronounced lifeless on the gym floor, victim to a massive heart attack. A day short of his 58th birthday, in the best shape of his life, Pastor Mark was now in the fight for it.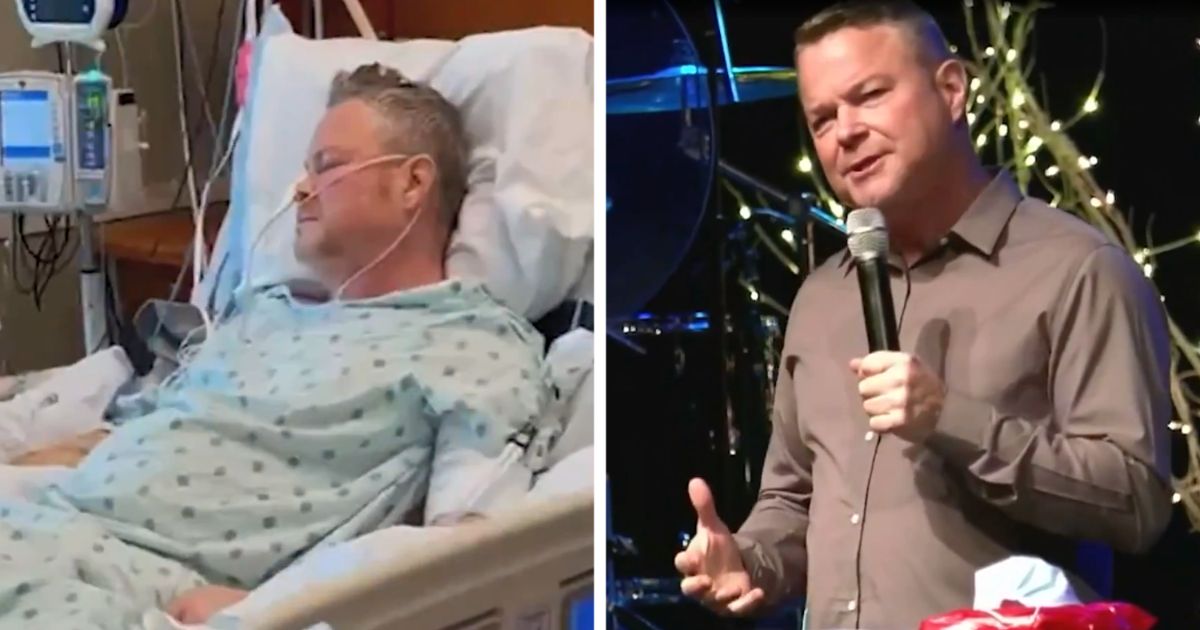 The scene was terrifying. Emergency CPR was initiated and soon, first responders were working tirelessly to bring him back. "He was completely gone at that point," recalled his son, Landon Morrow. The EMTs had to shock his chest six times to find a pulse. Even though they could resuscitate him, intubation failed. Mark was without oxygen for a harrowing 33 minutes, flatlining twice on the way to the hospital.
His family, seeing him in that lifeless state, felt an indescribable pain. "There was no life in his body at that point," Landon said, his voice shaking, "And that was probably the hardest sight to see through the whole experience."
Mark was placed on a ventilator in the ICU and later airlifted to a Level Two Trauma Center. His family followed close behind, wrestling with the reality that they might lose him. In a state of disbelief and fear, they turned to prayer. "God spare him. Save his life. Don't let this be the end." Pam Morrow, Mark's wife shared.
Doctors were not optimistic. Mark's lack of oxygen might result in significant brain damage if he survived. For Landon, this truth was difficult to digest.
The following morning, Pam felt an encouraging presence. "The Holy Spirit said, 'Just stand,'" she recalled. "And I knew that I could stand on who He was: He was the healer. He was in control." From that moment on, they anchored their hope in divine intervention.
Their church community rallied around them in support. They hosted prayer meetings, gathered outside the hospital, raising their voices in unity. "Seeing the faith of the people of our church and the people of the community was such a comfort to us," Landon said. "It encouraged us and it caused our faith to rise up."
About 72 hours after the heart attack, a miracle occurred. Mark opened his eyes. "It was kind of like a Lazarus Moment," said Pam. A few days later, Mark was alert, exhibiting no signs of brain damage, no residual damage to his heart. He was on the path to a full recovery.
When he learned of the events that transpired, Mark scrawled out a poignant message, "God must not be finished with me yet." He was right. Ten days after his near-death experience, the man dubbed "Miracle Man" by his ICU doctor was discharged.
Against all odds, Mark returned to the pulpit just a few weeks later. "I know Jesus healed me," he said, "He touched me." Today, his church hosts Encounter Nights, where he and his staff pray for others' healing. Mark's story has become an inspiration to many seeking divine intervention in their own lives.
Mark is grateful for the second chance at life. "God is not finished with me yet," he said, looking ahead with new-found hope.
Mark's remarkable journey has created a ripple effect across his congregation and community. His story, a testament to divine grace, is now shared with everyone they pray with, inspiring faith and hope. "Everyone wants to know the story," said Mark, "You're the 'Miracle Man.' If he can heal you, I'm sure he can heal someone else that we know. And so we pray for them and lay hands on them and see them healed."
The seemingly impossible journey has allowed Mark and his family to redefine their understanding of miracles. "Right before he was released, the ICU doctor looked at my dad in the eyes and said, 'You are a miracle,'" recalled Landon, the emotion apparent in his voice.
Mark's story has not only renewed his faith but also his purpose. He feels a renewed sense of commitment to his calling, a rejuvenated passion for his vocation. As he now ministers to his flock, he carries with him the profound understanding of the divine hand that has guided him through his ordeal.
Standing in the pulpit once again, his words carry an unmatched authenticity. "I know Jesus healed me," he asserts with a conviction born from his personal experience, "He touched me." His words resonate with an amplified force, touching the hearts of his listeners.
"'For I know the plans I have for you,' declares the LORD, 'plans to prosper you and not to harm you, plans to give you hope and a future.'" Jeremiah 29:11
WATCH: Pastor Mark Morrow Shares Miraculous Testimony