Ant-Man actor Paul Rudd brought joy to a 12-year-old boy whose classmates refused to sign his yearbook.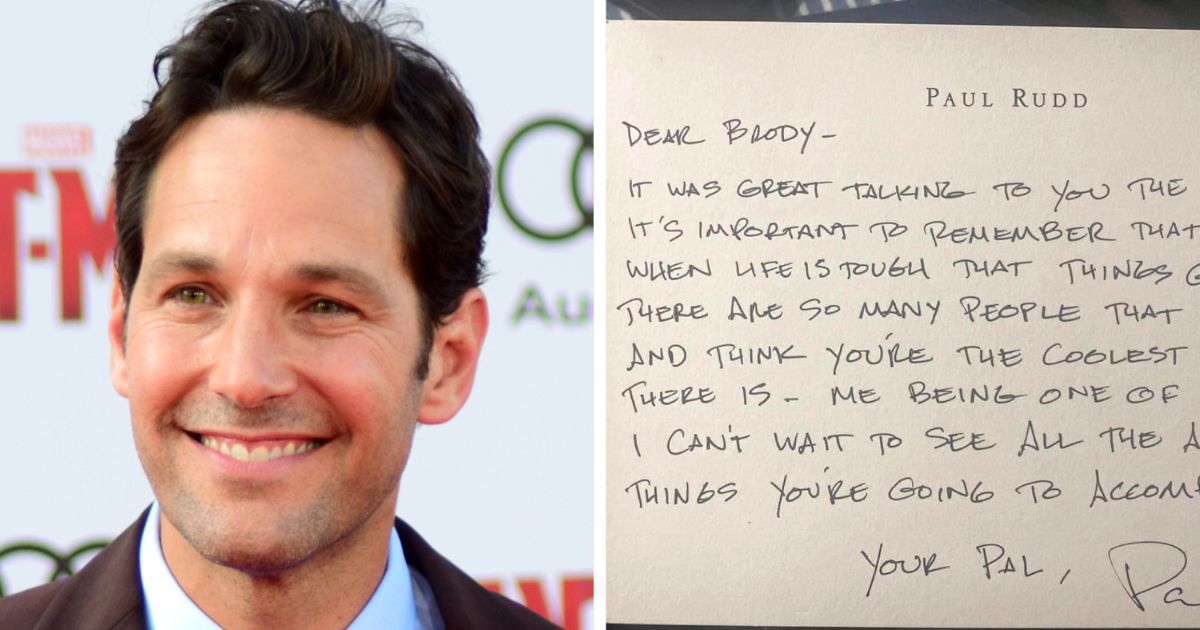 The 53-year-old actor reached out to the boy's mother after she shared a post on the incident on Facebook in May.
Cassandra wrote, "My poor son. Doesn't seem like it's getting any better. 2 teachers and a total of 2 students wrote in his yearbook despite Brody asking all kinds of kids to sign it," she shared a picture of her son's yearbook pages in the post.
She also shared with The Washington Post that her son was bullied by his classmates. She said, "There are kids that have pushed him and called him names," she told the outlet. "Brody has been through a lot."
Rudd was moved to get in touch with 12-year-old Brody Ridder of Westminster, Colorado, and sent him a letter and a signed "Ant-Man" helmet.
The kind gesture by Rudd stunned Brody and his mom, Cassandra, and she shared the pictures of the gifts on Facebook.
"It's important to remember that even when life is tough that things get better," Rudd wrote. "There are so many people that love you and think you're the coolest kid there is — me being one of them! I can't wait to see all the amazing things you're going to accomplish."
Cassandra also shared screen grabs of the duo's exchanges on Facebook and mentioned that the celebrity and her son have FaceTimed and text conversations with each other.
One of the screen grabs shows Brody sending a message to Rudd saying, "Your my favorite superhero," and the actor responded, "You're mine."
The 7th grader's story went viral and grabbed the attention of older high school students and even the Broadway cast. The older students from Westminster, Colorado, have pledged to fill his yearbook autograph pages.
Meanwhile, the "Dear Evan Hansen" cast has asked Brody to come and see their show in New York City in June and to bring his yearbook along so they could sign it.
What a wonderful ending to this story of bullying and bad behavior Brody had to endure from his own classmates. We wish more celebrities support anti-bullying in schools to get rid of this menace our children are going through everywhere.