In a time when the whole world is being affected due to the novel coronavirus pandemic, it is a common scene to see human beings comforting each other during their loss, but a recent photograph has emerged of animals too comforting each other and is going viral on social media.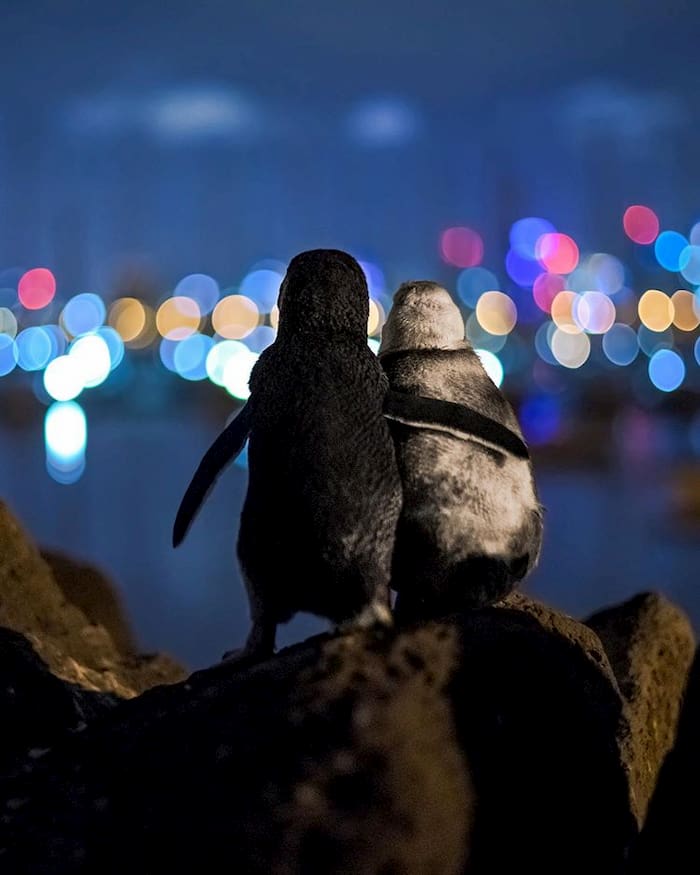 Wildlife photographer, Tobias Baumgaertner captured the stunning shot which showed a beautiful display of affection back in 2019 when he spent three nights with a colony of little penguins, or fairy penguins, in Melbourne, Australia.
Tobias noticed a pair separating themselves from the bunch with one having its flipper draped over the other in what looked like a loving embrace. "While all the other penguins were sleeping or running around, those two seemed to just stand there and enjoy every second they had together," he wrote.
Tobias did not know that both had experienced a loss which was the connecting point between the two.
"A volunteer approached me and told me that the white one was an elderly lady who had lost her partner and apparently so did the younger male to the left," he explained. "Since then they meet regularly comforting each other and standing together for hours watching the dancing lights of the nearby city."
Tobias was so moved that he wanted to capture their bond which took days but left him with two perfect shots and two examples of how love can heal. Tobias released the photos on Instagram after the novel coronavirus was declared a global pandemic in March, he wrote: "During times like this the truly lucky ones are those that can be with the person/people they love most."
This picture went viral in no time and has spread joy and tears to thousands as one person put it correctly, "It's the cutest, most heartwarming thing I've ever seen."
Penguins are the most adorable creatures and today they are sending all of us an important message that together we can all overcome this crisis together.