Mark Lowry is a big name in the Christian music genre and has been a part of the Gaither Vocal Band. He is famous for co-writing the song "Mary Did You Know, but today, he is at the airport singing along with an unlikely partner- a pilot who he met at the Lynchburg airport.
Mark was just arriving at the airport when pilot, David Bennett, asked him to hear him play the piano. It did not take him much to say yes, and he sat down while the pilot played "Just A Closer Walk With Thee" at the airport lobby.
The exact author of this traditional hymn is unknown but the song was inspired from the Bible, it was inspired from 2 Corinthians 5:7, "We walk by faith, not by sight" and James 4:8, "Come near to God and he will come near to you."
"Just a closer walk with Thee
Grant it, Jesus, is my plea
Daily walking close to Thee
Let it be, dear Lord, let it be"
The pilot had recognized Mark and asked him to play 'Just A Closer Walk With Thee' along with him on the public piano that is placed at the airport. They both got together and belted out a memorable version of this iconic hymn.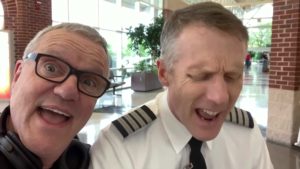 Mark Lowry is an inspiration in the Christian music world and we can learn so much from his simplicity and humility while dealing with other human beings. This was a great performance by the pilot and Mark and the clip has since gone viral.
Watch : Pilot plays and sings 'Just A Closer Walk With Thee' with Mark Lowry at Lynchburg Airport.