A deputy sheriff spread a lot of smiles and happiness when he went out of his way to help a disabled woman in need.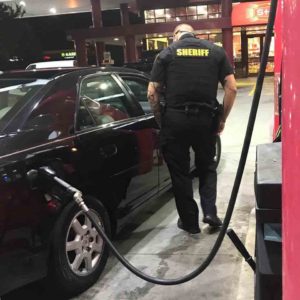 Chris Owen of Forsyth County, North Carolina, used his own credit card to buy a tank of gas for the woman who couldn't afford it. A post from the Forsyth County Sheriff's Office shared what happened that day. "This job isn't just about carrying a gun and a badge — it's about serving others," read the post.
Owen, 30, was on duty in Walkertown when he was approached by a woman in a black car. "The driver explained that she was on her way home and needed to get gas. The lady told me she was handicapped and asked if I could pump her gas for her," Owen said.
He "gladly" agreed to help her and met her at the nearest gas station. When the driver handed Owen only $8 in cash to fill up her tank, Owen asked where she was going and doubted if it would be enough and decided to foot the bill himself.
"I asked if she thought that would be enough to get her home, and she told me where she was going and that she thought it should cover it," Owen recalls. But, he adds, "I did not want her to run out of gas and be stranded, so I decided to just swipe my credit card to pay for her gas."
The grateful driver drove off not before thanking Owen many times. The post has already garnered over 3,600 likes. Owen is being modest when he says it simply "felt like the right thing to do." He adds, "She was not having a great night and I wanted to do what I could to make it better," Owen says.
Public affairs officer Christina Howell says it was "nothing out of the ordinary for [Owen]," who has worked for the Forsyth County Sheriff's Office for more than six years.
She says, "Many individuals who go into law enforcement do so because they want to make the world a better place by both protecting and serving others," Howell says, adding that instances of police officers serving their community happen on a regular basis around the nation, but that they occur "without being photographed and shared, and therefore go unnoticed by the general public."
Owen says, "You never know someone's circumstances or what challenges they are facing every day, and a seemingly small act may end up making a difference for someone," he says. "Just pay it forward and treat everyone you encounter with respect and understanding."
Owen is correct when he says that no act of kindness is too small or great and we should always pay it forward in life.