The Oklahoma Sooners softball team, fueled by faith and unyielding grit, claimed an unprecedented victory, not only setting new records in sports history but also standing as radiant testimonies to their Christian faith. The historic, record-breaking season culminated on Thursday night with the team giving glory to God on national television, a testament to their enduring belief and humility.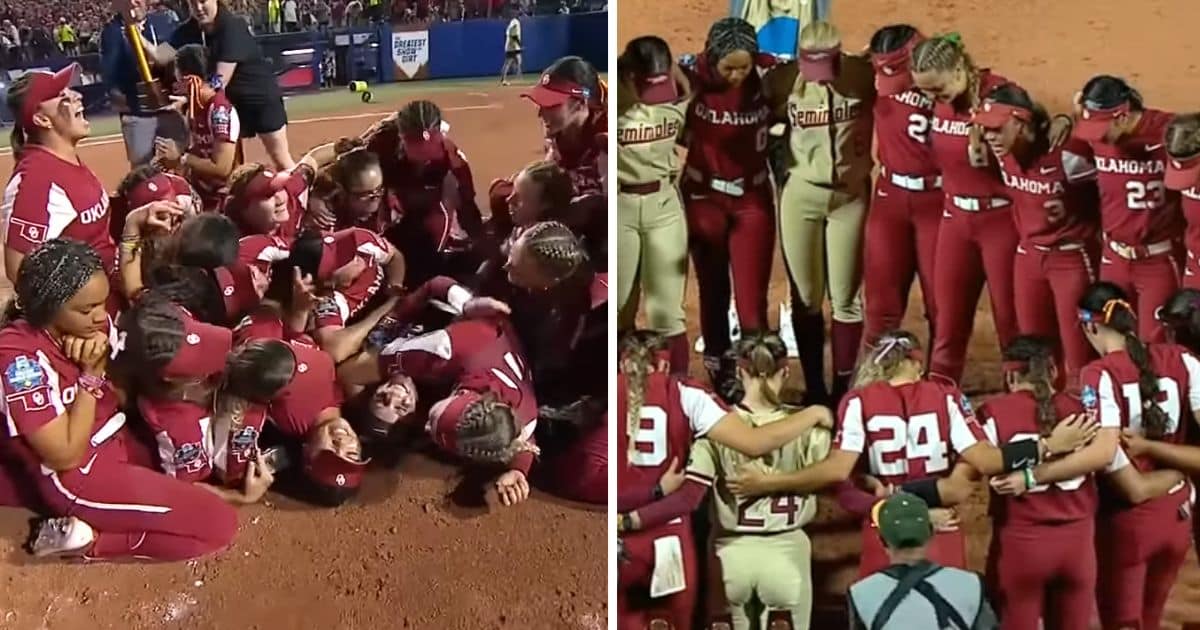 The Sooners triumphed over the Florida State Seminoles in a 3-1 victory, seizing their third consecutive national title broadcast live on ESPN. Not only was it their third straight championship, but it also marked the winningest season in NCAA history with an extraordinary 53-game winning streak. The team's awe-inspiring accomplishments over the last decade include six championships, with head coach Patty Gasso claiming seven titles since the year 2000.
This year's team, however, commanded attention not just for their 61-1 record-breaking performance but for their tenacious spirit and unshakeable faith in God. They faced significant criticism for their exuberant celebrations of small victories along with the big ones, an attitude that exemplified their gratitude in every moment of the game. Regardless of their unmatched on-field prowess, they remained humble, concluding each game with a heartfelt prayer.
PILE ️ pic.twitter.com/hkhNXGEIf1

— Oklahoma Softball (@OU_Softball) June 9, 2023
The climactic finale on ESPN last Thursday bore witness to the Sooners' unswerving commitment to their faith. Despite the exhilarating victory, they didn't waver in expressing where their real priorities lay. The Sooners and the Seminoles united in a poignant moment of prayer, captured on national television.
The WCWS most outstanding player of the year, Sophomore pitcher Jordy Bahl, exemplified this spirit of humility when she was asked about her significant achievement. Bahl gracefully redirected the focus from her personal victory to a higher power, saying, "It doesn't matter how it really ends because all of the efforts and the glory is given to the Lord all the same. I'm speaking on behalf of our entire team. We all feel that same exact way."
Likewise, when asked about her consistent delivery in the face of immense pressure, catcher Kinzie Hansen responded, "I know I have Jesus on my side. All of us do."
These powerful affirmations echo the team's collective faith, fostered by their coach, Gasso, a vocal Christian herself. Gasso has built a formidable program that fosters talented women who prioritize their relationship with Christ, allowing everything else to align naturally.
The team's resolute faith was further emphasized when shortstop Grace Lyons responded to a question about the team's ability to stay joyful and stress-free despite the pressure, saying, "The only way that you can have a joy that doesn't fade away is from the Lord. Any other type of joy is actually happiness that comes from circumstances and outcomes."
The Oklahoma Sooners are not just victorious athletes. They are young women of extraordinary character who consistently bear witness to their Christian faith, showcasing the power of unwavering belief in both victory and adversity.
"Therefore, whether you eat or drink, or whatever you do, do all to the glory of God." – 1 Corinthians 10:31
WATCH: Oklahoma Sooners Players Credits Faith in Jesus Christ as Key to their Victory