A School Resource Officer is being lauded for showing kindness to a child with autism who was struggling to adjust on the first day of school.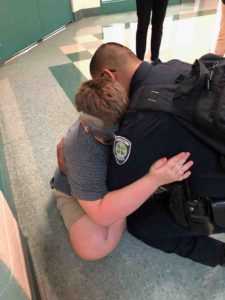 A photo from a school district in east Tennessee showed the school resource officer hugging the 11-year-old boy with autism, which demonstrated the fact that compassion and kindness can make a big impact on students on their first day of school.
Kadin Templin is a sixth grade student in Morristown, Tennessee. He has had 24 surgeries since his birth and because of a rare genetic disorder and medicine he takes, he is much larger than kids his age.
His mother, Christina Swartz, said, that others don't understand why Kadin acts like a kid because of his size and it worried her deeply as he was getting ready to get back to school. "I always worry about kids his age bullying him," she said. "I mean I've heard grown adults say things under their breathe about Kadin."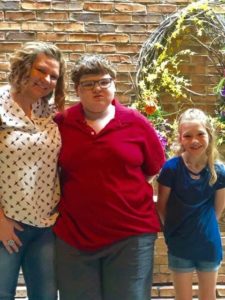 Kadin's first day of middle school meant a new school, new teachers and new classmates, earlier he used to attend the same elementary school as his 9-year-old sister who took care of her big brother, but now as he was going to be in middle school, he was no longer in the same school as her.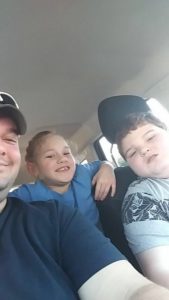 Swartz was worried that her son would not understand that not everybody would want to be friends with him, "He thinks EVERYONE is his friend. And doesn't understand not everyone wants a hug, and not everyone is nice," she said. "He tends to get talked into doing things because he doesn't know he's not supposed to because he wants to feel included so bad."
But all her worries disappeared when she went to pick him up and her friends and family texted her to let her know that Kadin's picture was posted on the district's Facebook page.
It showed Kadin, with his face blurred, sitting on the floor being hugged by school resource officer Julio Ortiz. "Sometimes first days of school are stressful," the Hamblen County Department of Education wrote. "Thank you for your love and assistance Officer Ortiz."
Swartz said she "ugly cried" when she saw the photo. "To see an adult, a stranger at the time to Kadin, get down on his level and try to be there for him when he felt stressed meant the world to me," she said.
Kadin told his mom he made two friends at school: Officer Ortiz and Mama T, a custodian at the school who took the now-viral photo. She was very grateful to Officer Ortiz for his act of kindness and reached out to him on Facebook to personally thank him and also told him that Kadin had named him as a new best friend.
"When I told him what Kadin said about him being his new best friend his exact words were, 'I'm so excited and honored to be called his friend. This is the things that matter in life. He is special to me the very moment I met him,'" she said. "It really touched my heart someone can be there for him and understand Kadin has such a big loving giving heart!"
Now Swartz says she is no longer worried for her son because she feels reassured that the staff of the school are taking good care of him. "What I really hope people take from this photo is … a child with special needs like autism might look like a normal child from the outside," she said. "And no we don't want to handicap them. But, they need extra love, attention, and compassion."
It's because of the kindness and compassion show by Officer Ortiz, that parents like Swartz can confidently send their kids with special needs to school knowing that they are being taken care of and are loved.