This story of a singing nurse lighting up peoples lives at the Bronson Hospital in Kalamazoo, Michigan, will leave you inspired.
When Nurse Brenda Buurstra got to know that a patient of hers liked the song "You Light Up My Life" by Debby Boone, she began singing it to him, and as a result of it, one week later, he was discharged from hospice care.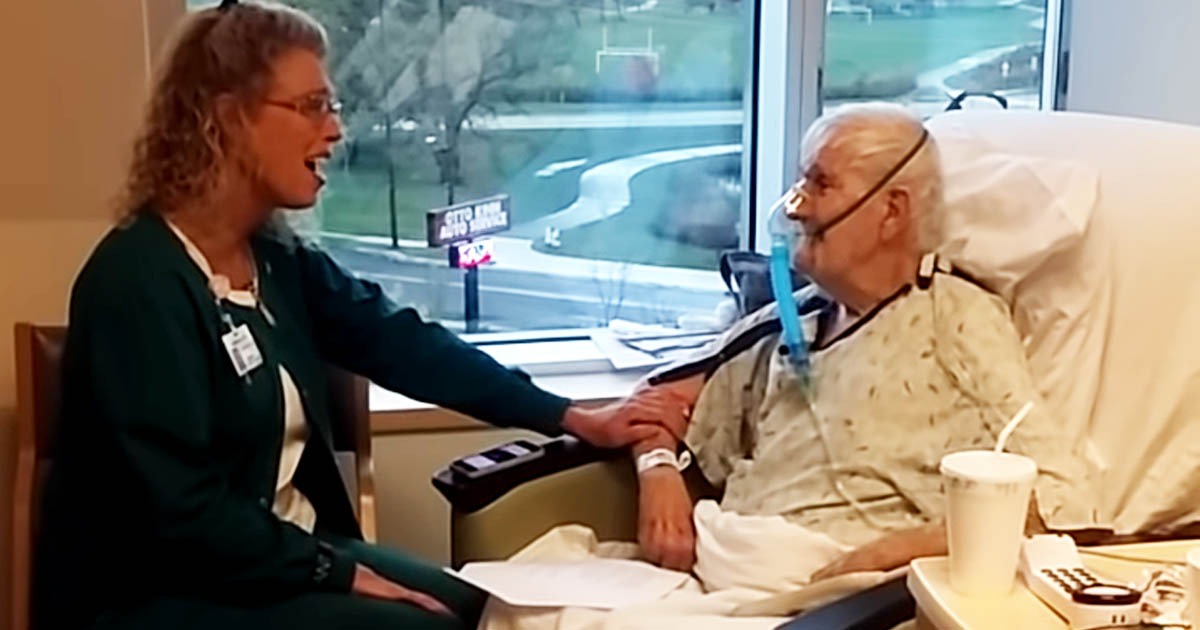 Buurstra has been singing to and lighting up her patients lives for more than a decade now.
"I have sung to patients for 14 years, and this is just the first time I got caught," Buurstra said. She was "caught" by Roberta Lytle, whose dad was admitted to the hospital last month.
Lytle's dad Robert Olson wasn't able to breathe properly and was under treatment. She said her dad has always been strong — he didn't retire until he was 85 years old. However, this time it was different and he was put in hospice care.
"He has heart problems but because of his age, they can't put a pacemaker in," Lytle said. "He had an episode at the house, and he couldn't breathe. So they took him to Bronson Hospital. He was there about a week. We did not think he was coming home this time."
Lytle said her father found it tough to even speak a few words, but when Buurstra walked in, she not only got Olson to speak but sing as well.
"We were watching a show on Pat Boone, and he told the nurse 'I don't like him, but I like a song that his daughter sings.' And this lady just starts singing," Lytle said of Buurstra. "And I'm just blown away. Because the woman's got a voice."
"He said, 'My favorite song is "You Light Up My Life".' And I just started singing it," Buurstra said.
Buurstra did not know all the lyrics, but said she would print out the lyrics and come back the next day to sing to him some more. And sing she did.
"He was beaming," Buurstra said. "Even through his little venting mask he was wearing, his eyes lit up. His whole countenance changed, and he had a big smile. You could tell that song lit him up. Literally 'You Light Up My Life,' that song really just lit him up. You could tell it touched his heart."
After only one week, Olson has got back his strength and has been deemed fit to be discharged from the hospital. Once in hospice care, he was now going home.
Buurstra said she has been singing to patients right from the start of her medical career and started singing 17 years ago in church.
She says nursing is a lot more than just caring for a patients' medical needs: "Not just taking care of the illness in a patient; to touch them. To touch their life. To touch their heart."
"To make that awful hospital stay they're going through just a little bit better, a little bit brighter," Buurstra said. "I wanted to be on a team of positive people, and that's what we have here at Bronson. I'm not the only nurse who goes above and beyond at Bronson. This is what we do every day."
Thanks to nurse Buurstra, Olsen could go home early. God bless her and keep using her talent in her medical career.