Amanda Eckstein and Phillip Werner were enjoying their maternity shoot when suddenly a horse photobombed and cracked everyone up there with its hilarious smile.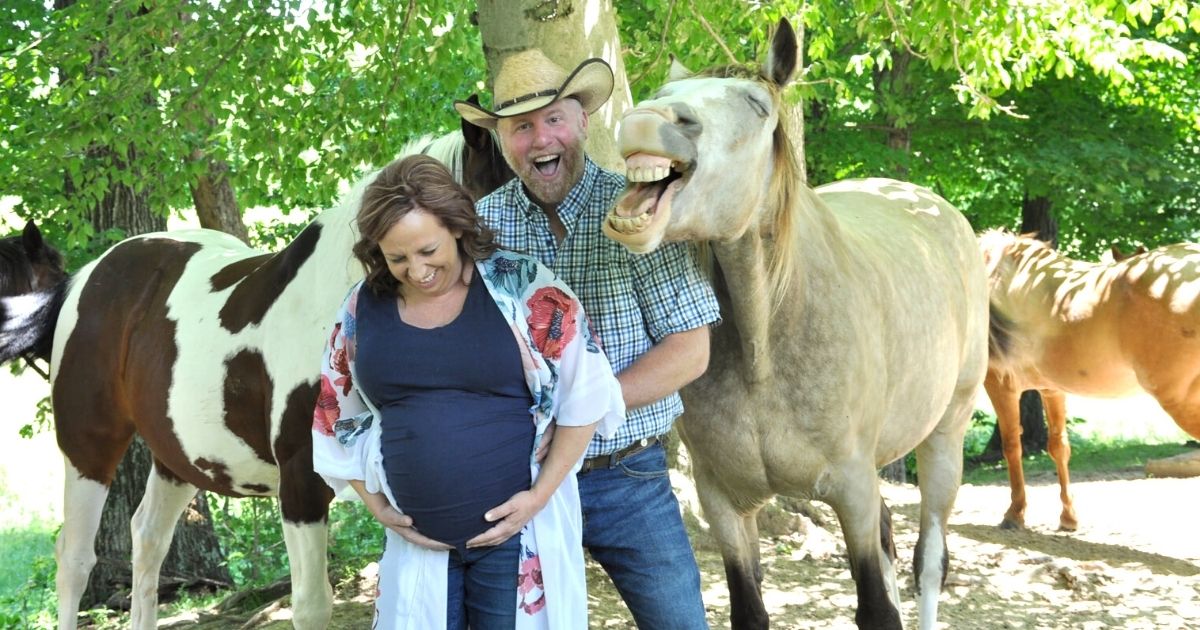 Cincinnati photographer Kristen Zaffiro was conducting the photoshoot for Phil and Amanda on the couple's pasture when the incident happened.
"We tried the photoshoot two other times and got rained out, but on Memorial Day, we finally got together," Zaffiro says.
"Phil's 10-year-old daughter, Ava, was supposed to be in the shoot, but that day she wasn't available. We had to get this shoot in because the doctors kept saying Amanda could deliver any day! The baby is measuring over 10 pounds now so they have a planned C-section for Monday."
Upon arriving in the shaded area under some trees, the group was all set to continue shooting when the horses decided to check them out.
"The horses were very curious when I came up with my camera, and one almost knocked me off my ladder!" the photographer says. "As a photographer, it is hard if the sunspots are everywhere on the faces. So I was trying to get the lighting situated and the horses were very nosy with the camera and me!"
Buckshot, a 12-year-old Tennessee Walker, was extremely curious among the pack and was all smiles for the camera while Eckstein and Werner posed in a shady area surrounded by tall trees.
Buckshot is a family horse who has proven to be a jokester in the last nine years he's been with them. "He's usually the class clown of the group," Eckstein said. "He's always into mischief."
Zaffiro found the moment hilarious from her end, especially when Buckshot made smiling faces, walked in between the couple and sniffed her camera.
"I definitely laughed and continued to laugh once he kept it up and I kept it up," Zaffiro said. "So, I think that's why Amanda was rolling her eyes because she thought, 'Oh boy.'"
Two weeks after the photoshoot, Amanda gave birth to a baby boy on June 14. The family is planning to redo their horse-accompanied photoshoot with their newborn and Werner's 9-year-old daughter Ava.
Zaffiro later shared these photos on Facebook with the caption, "This photo session… I laughed so hard! Who knew when I told THIS horse to smile, he would! Best maternity session ever." The pictures went viral on social media with over 120,000 Likes, 27,000 comments, and over 295,000 shares.