A beautiful moment captured live on video and now viral shows a homecoming US soldier sneaking into his 9-year-old son's taekwondo session to be his sparring partner and giving him the surprise of his lifetime.
The boy can be seen bursting into tears after seeing his dad who had been away on deployment for 10 months.
Luca Cesternino was blindfolded and had no idea who he was going to punch in front of him, thinking it was his martial arts routine.
He wasn't aware that his trainer at Success Martial Arts Centre in Lebanon, Tennessee, had traded places with his father, Staff Sgt. Rob Cesternino and towards the end Staff Sgt. Rob Cesternino can be heard saying 'Hey Shib' – a name he used to call Luca when he was younger.
The boy instantly reacted saying 'Daddy?' He removed the blindfold immediately and jumped into his father's arms, breaking down into tears.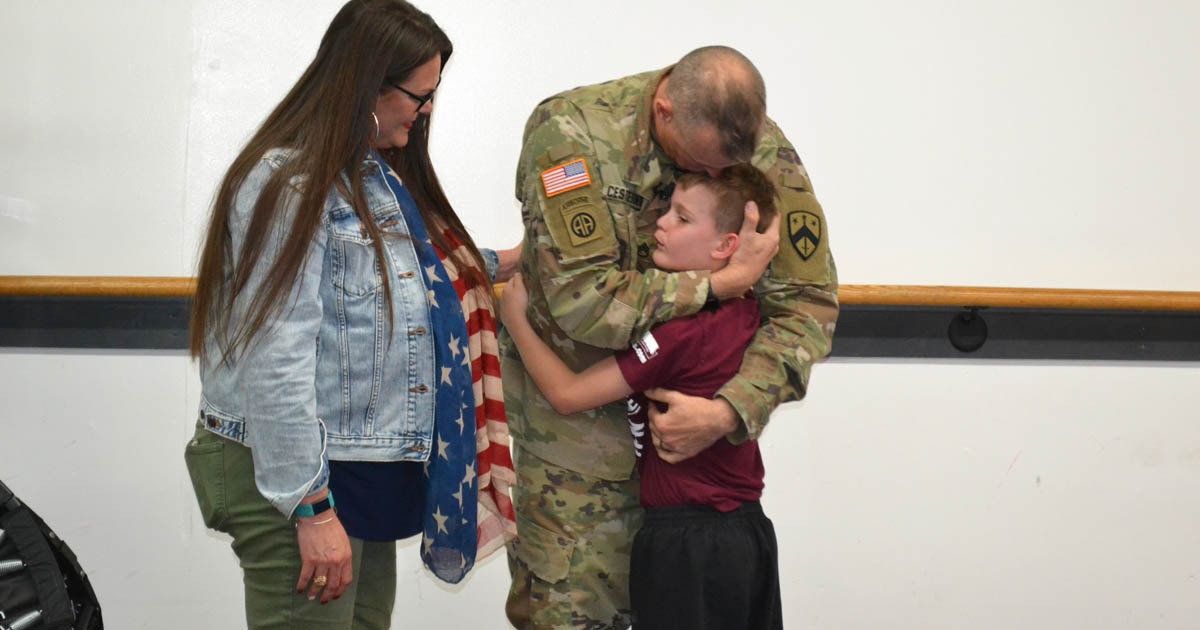 Everybody present there felt emotional and gave them an applause as they embraced, with Rob telling Luca, 'I love you, and I'm so proud of you. You were such a big boy while I was gone'.
They were soon joined by Leah, the Staff Sgt's wife, who set up the whole surprise and was praised by Rob for caring for son Luca while he was away.
Luca said: 'I was, like, wow! Everybody came here to see my dad and me. It's just excitement. I felt joy in my heart – I will never leave his side.'
The staff sergeant had to spend 24 hours in seclusion after he arrived, he was with the Tennessee Army National Guard's 230th Sustainment Brigade.
The community also pitched in to help welcome Rob and other vets back by decorating Lebanon Square and other areas of the city with yellow ribbons.
Rob said, 'The person we both have to thank is Luca's mom and my wife, Leah. It starts and ends with her – she makes us better. If you are a husband or a wife of a service member, if you are a child of a service member, they deserve more applause than we get, because they have a tougher row to hoe.'