Blessed Assurance is a timeless Christian hymn that has touched countless hearts and inspired numerous believers since its composition in the late 19th century. While many Christians may be familiar with the uplifting melody and memorable lyrics of this beloved hymn, few may know the incredible story behind its creation and the spiritual journey of its author, Fanny Crosby.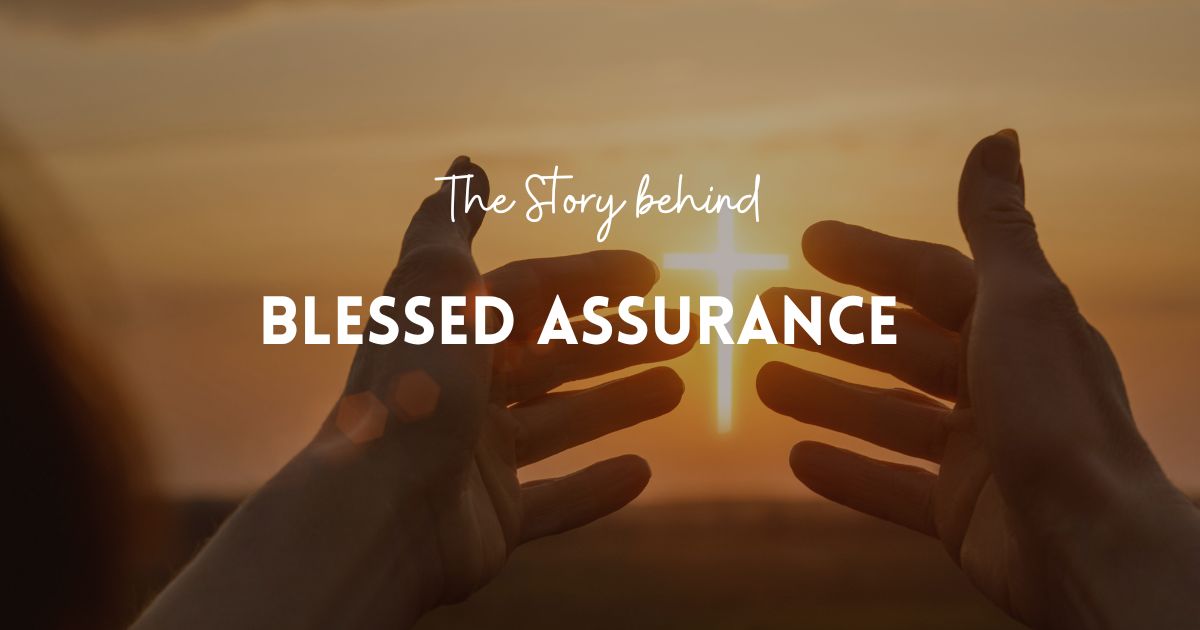 Blessed Assurance Lyrics
Blessed assurance, Jesus is mine!
Oh, what a foretaste of glory divine!
Heir of salvation, purchase of God,
Born of His Spirit, washed in His blood

Chorus:
This is my story, this is my song,
Praising my Savior all the day long;
This is my story, this is my song,
Praising my Savior all the day long.

Perfect submission, perfect delight,
Visions of rapture now burst on my sight;
Angels, descending, bring from above
Echoes of mercy, whispers of love.

Perfect submission, all is at rest,
I in my Savior am happy and blest,
Watching and waiting, looking above,
Filled with His goodness, lost in His love.
The Story Behind Blessed Assurance
Fanny Crosby was a prolific Christian songwriter who wrote over 8,000 hymns during her lifetime. She was born in New York on March 24, 1820, into a family with a strong Puritan heritage. As an infant, she suffered an eye infection that left her blind for life.
The treatment she received from a quack doctor, which involved placing hot poultices on her inflamed eyelids, caused scarring that led to her blindness.
Tragically, a few months after Fanny's birth, her father passed away. Her mother, Mercy Crosby, was left widowed at the young age of 21 and was forced to hire herself out as a maid. Fanny's grandmother, Eunice Crosby, stepped in to take care of the baby and became her primary caregiver and teacher.
Despite her blindness, Fanny's grandmother was determined to provide her granddaughter with a quality education. She took it upon herself to teach Fanny about the physical world, illustrating it in vivid detail. She also read and explained the Bible to Fanny, instilling in her a deep faith and a love for God. When Fanny became discouraged because she could not learn like other children, her grandmother encouraged her to pray for knowledge and understanding.
In 1834, Fanny learned about the New York Institute for the Blind and knew that this was the answer to her prayer for an education. She got enrolled in the school when she was twelve. Later, she became a teacher and served at the same school for an incredible twenty-three years.
Despite the challenges she faced as a blind person, Fanny excelled academically and became a celebrity at the school. She was called upon to write poems for almost every occasion and became known for her poetic and lyrical talents.
On March 5, 1858, Fanny married Alexander van Alstine, a former student at the Institute. He was a talented musician whose skills on the organ were renowned in the New York area. The dynamic duo collaborated on several gospel hymns that resonated with audiences across the country.
In the summer of 1873, Crosby visited her friend, Phoebe Knapp, who was a gifted musician and composer. One day, Knapp played a melody on her piano and asked Crosby what she thought of it. As soon as Crosby heard the tune, she exclaimed, "Blessed assurance, Jesus is mine!" and began to compose the lyrics on the spot. Within an hour, the hymn was complete, and Blessed Assurance was born.
The lyrics of Blessed Assurance are a powerful testimony to Crosby's faith in Christ and her unwavering confidence in His salvation. The opening lines declare, "Blessed assurance, Jesus is mine! / Oh, what a foretaste of glory divine!" The hymn goes on to affirm the believer's security in Christ, their victory over sin and death, and their hope of eternal life.
However, the story behind Blessed Assurance is more than just a moment of inspiration and musical genius. Crosby's blindness, while a physical limitation, never hindered her ability to see and experience the beauty and majesty of God's love. Her powerful testimony reminds us of the Bible verse "we walk by faith, not by sight" (2 Corinthians 5:7).
As we sing Blessed Assurance today, let us remember the incredible woman of faith who penned these words and the God who inspired them. Let us also remember that the same assurance of salvation that Crosby expressed in this hymn is available to each one of us through faith in Jesus Christ.
As Apostle Paul wrote, "For I am convinced that neither death nor life, neither angels nor demons, neither the present nor the future, nor any powers, neither height nor depth, nor anything else in all creation, will be able to separate us from the love of God that is in Christ Jesus our Lord" (Romans 8:38-39).
May we sing Blessed Assurance with hearts full of gratitude and hope, knowing that Jesus is truly ours and that nothing can separate us from Him.
WATCH: Southern Raised Bluegrass Performs 'Blessed Assurance'