The last wishes of persons who are very ill are always fulfilled by family and friends.
So when this elderly man who is at the point of death, expressed to visit his favorite restaurant, The Little Big Cup, in Arnaudville, Louisiana for the last time, family and strangers got together to make it even more special.
When the employees and customers there heard about this, they sang 'Amazing Grace' for him.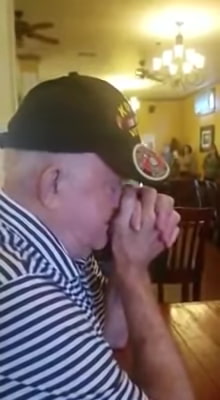 "I'm blown away," wrote restaurant owner Sanjay Maharaj on Facebook.
"Mr. Chauvin is dying and he wanted one of his last meals at The Little Big Cup. Our employees and guests joined his family celebrating his wonderful life."
What a beautiful way to make Mr. Chauvin's day special by reminding him that God's amazing grace has saved his soul.