Carly Boyd wanted to let her grandfather know about her new engagement ring, but was not allowed to meet him by his nursing home due to the coronavirus.
All that was stopping her was a pane of glass between them, and on Monday she held up her right hand to her grandfather's window at Premier Living and Rehab Center in Lake Waccamaw, North Carolina, where he saw the ring and placed his right hand on the window in an emotional moment.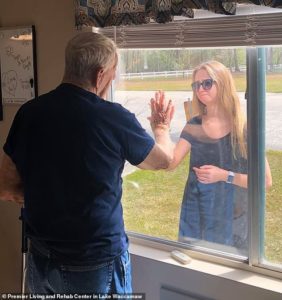 They were helped by Gennie Parnell, an administrator for the home. "She was right there with her hand pointing to it," Parnell said. "He was laying up there eating some ice cream. He is the sweetest gentleman.
"He got up to see it better and she put her hand up on the window and he put his hand on the window, and we all just fell apart."
Photos capturing the heartwarming moment shared by the nursing home went viral on Facebook. "So glad I was allowed to see my grandfather, even under the circumstances of this virus I was still able to tell him I am engaged!!" Boyd wrote on Facebook. "Thank you premier living staff!!"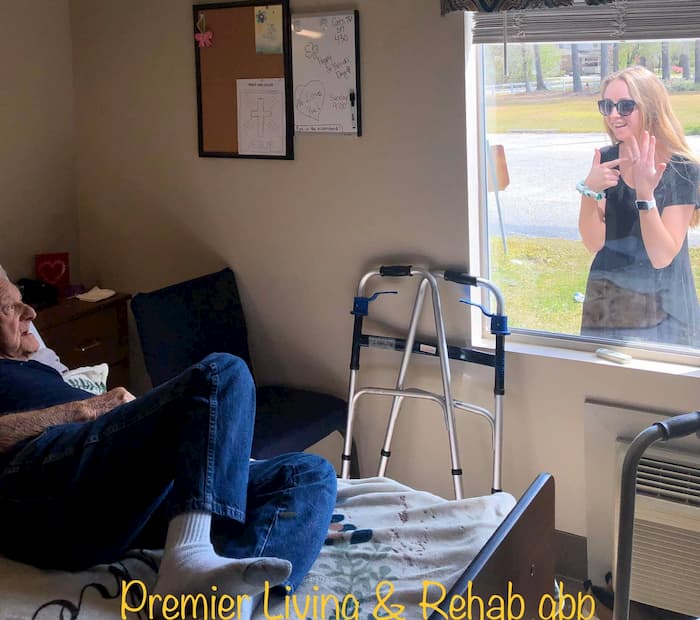 Boyd is studying nursing at Southeastern Community College in North Carolina and got engaged to boyfriend Trevor Sellers this past weekend.
Boyd and her grandfather, Shelton Boyd, are very close. She had done his laundry and was dropping it off at the home Monday when the staff noticed her new ring.
"The activities director was talking to her and I heard her say something like 'congratulations' and I realized she had gotten engaged over the weekend," Parnell said. "We were standing there talking and she kept glancing over that way where his room is, and as they were getting ready to leave, it hit me.
"I said, 'Would you like to go to the window to say hey?' And she said, 'Can I?' I said, 'Sure!'"
The staff at the home in North Carolina savored the special moment between Boyd and her grandfather during a difficult time.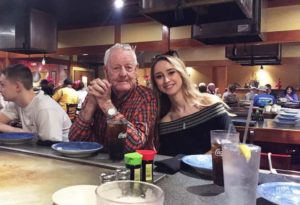 "It happened exactly like I thought it would," Parnell said. "We're a mom-and pop-facility, just a one-owner facility. I feel like that makes it a little bit different, more family-like. We love our residents."
This story shows us that love and compassion hasn't run out yet in our hospitals and care centers, even with the imposition of strict rules and guidelines because of the coronavirus, people like Gennie Parnell are still generous and caring towards one another.