If you know someone in their nineties, you would imagine that most part of their day snuggling up in bed, but not this man.
Wally is a 94-year-old gentleman who was a fighter pilot in WW2 and the Korean War and then became a commercial pilot, and nowadays spends his time standing outside a local school spreading kindness and encouragement.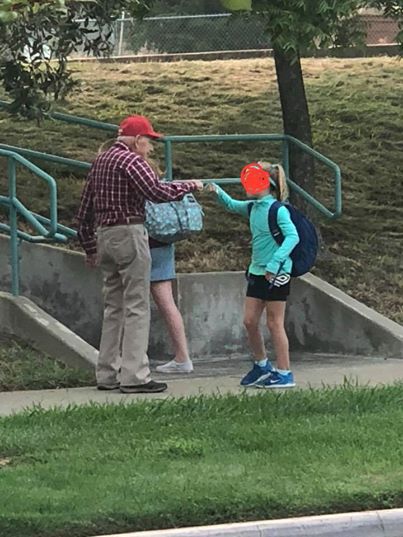 Gina Michelle, a mother from California, posted a story on social media where it all started when she tried dropping her daughter at a different spot from the regular one.
Her daughter immediately told her that she should have dropped her at the other corner so that she could talk to the cute, little old man.
Her mom asked her who she was referencing and she told her about the old man who stands at the school corner, who encourages all the students as they walk in. She told her about bow kind he was and how he gave them advice and fist bumps!
So she decided to see it for herself and what she saw touched her heart deeply.
She says that it is the kind of love and support middle schoolers needed, and how he stands outside the school every day and encourages every student coming in.
She found out that his name was Wally and he was 94 years of age and has been doing this for years. She has shared a post about him and what he does on social media which has gone viral.
Encouragement can do wonders for kids and we thank God for the heart of kindness and gift of encouragement He has given Wally.